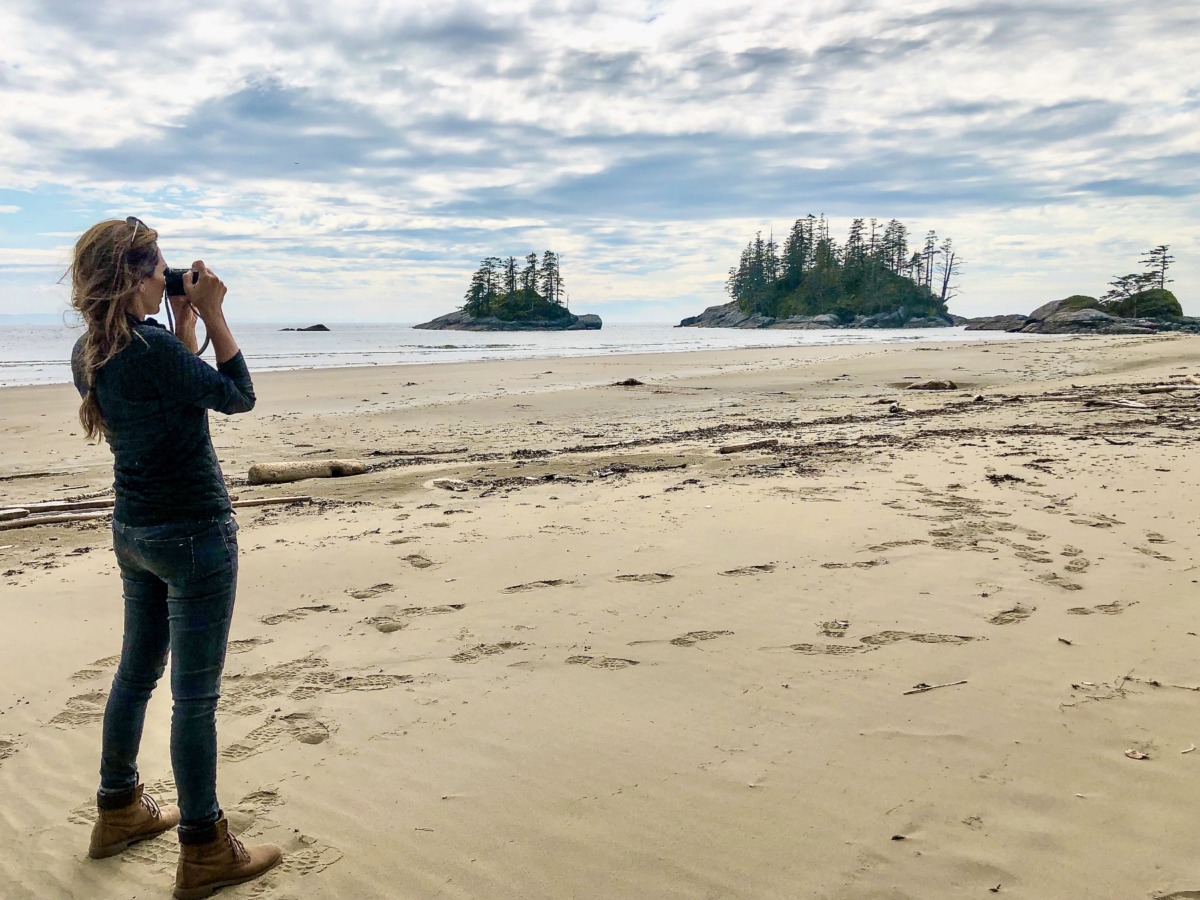 Canada Love. And the CL was there to capture the most breathtaking moments.
Lush meadows, deserted shores, endless forest, singing orcas, basking seals and a bear hunt, that ended in success at the very last minute. How the Leica CL captures Canada's stunning nature.
Like a little piece of home.
I don't mean to sound dramatic, but whenever I look at the photos from my trip to Canada, my eyes start welling up. The vastness. The calm. The nature… My life has taken me to many extraordinary places, for personal reasons and in my work presenting a travel show ("einfach/luxuriös" on Swiss national TV channel SRF). But British Columbia inspired something in me that no other place had ever done before: it felt to me like a little piece of home. A return to Mother Earth's embrace. Here I go again: when I tell the story, I get incredibly emotional. But let's start from the beginning.

Water, water, everywhere.
I arrived on Canadian soil for the first time in July 2019. Vancouver was only the gateway to this trip, which was long in the pipeline. I headed straight on to Port Hardy, a small town with just over 4,000 inhabitants on the northern tip of Vancouver Island. The heavens had opened and rain was hammering
down. At the local airport, a giant among men led me to a hydroplane jacked up on wheels outside the hangar.
The gray clouds were hanging low, really low, right over the aircraft, and I wasn't sure whether getting in was the stupidest decision I'd made in my life. The rain was pouring in. "Literally," as the Canadians would say. I knew it: bad idea. But the tall pilot in his raincoat was unperturbed as he started up the small aircraft, wiping the foggy windshield with his sleeve to create a makeshift peephole. "I'm not sure whether we'll be able to fly through these thick clouds, but let's try," he said, shrugging, and got going. I giggled nervously. The whole trip was already an adventure and I'd have a great story to tell my kids – if I ever saw them again.
Somewhere in the middle of nowhere.
Now, I might be forgiven for being dramatic given the unusual circumstances. All was well in the end: the aircraft landed safely on the water outside the wild, romantic eco resort Nimmo Bay. The word "resort" here is a little misleading: it's actually just nine log cabins, somewhere in the middle of nowhere. No roads, no stores, no internet, nothing. Just water, water, everywhere, a handful of people, and nature itself. This was paradise for me, a hermit in disguise. I could read, relax and see animals in the wild. And try out my new camera, the Leica CL.


A new meaning of freedom.
Hearing orcas sing, watching a whole family of whales puffing out big plumes of water as they swam around me, looking for a bear and finding two, watching lovely seals basking in the sun – my experiences in British Columbia opened up a whole new world for this self-confessed nature lover. They made unforgettable impressions on all the senses. The digital vacuum was flooded with first-hand experiences that only exist in the real world.
I've got it all in my head and my heart. And some on my camera's memory card, too. These photos are catapulting me back into this world that I found so soothing. To be honest, for a person who's usually truly snap-happy, I didn't have the Leica at the ready that often. Perhaps I was too captivated by what I was seeing and the laid-back mentality. This isn't a place to hurry. For anyone who isn't ready to take things down a gear, it could be torture. Everyone else is rewarded for their efforts with real-life images you just can't see anywhere else.



The whale on a massive scale.
There's something truly majestic about a whale gliding by. In these moments, I also wished I could whip one of those monster lenses out of my shoulder bag and zoom in on the whale. But I didn't have one with me. Otherwise, both lenses (see the end of the article for technical details) were perfectly sufficient for taking impressive pictures. The resolution is so good that even small image details are razor-sharp when enlarged.



WWW for triple wow.
I think anyone who grew up in these powerful surroundings, where the vastness doesn't stop at the horizon, must struggle to come to grips with the skyscraper canyons just two hours away in Vancouver. I actually spoke to a few locals – including younger people – who confirmed my theory. Many return eventually. As even life in a smaller city starts to create a feeling of claustrophobia.
Of course, there are also people who can't handle the tranquility – which really throws you back on yourself. And there are those who can't move away. For many different reasons. One very serious reason is the sense of responsibility to their own roots.



The forgotten First Nations.
If you're in Canada, take a closer look.
Everything wasn't always lovely here. Of course not. A visit to Cormorant Island, home to 1,000 people with indigenous roots, known as First Nations, left me feeling saddened. Helpless and furious, too. Colonial powers drummed their culture, beliefs and spirit out of them. Today, they are trying to recapture what they lost. And it feels as if the world has forgotten them. It was clear to me how important it is for the people who live there to talk about what happened and experience empathy and understanding. Still.
Yes, this trip evoked all kinds of emotions.

The bear light on its feet.
And then there was the whole bear episode. While practically every other tourist saw bears at camp, I sat there and looked in vain. I too would have loved to have seen a black bear or a grizzly in the wild in these surroundings.
These bears do pose a risk, and if you go in search of them alone, you can come to a grisly end. So we were only allowed to walk through the woods with a guide. The guide was armed, although – so I was told – the guns are mainly intended for firing warning shots, should a bear get too close.
You regularly read and hear of bears whose curiosity and familiarity with humans leads them to react unpredictably. It's no surprise, really, if we humans disturb them and don't respect their living space. So I didn't want to go on a bear hunt in the woods, but I hoped that one might appear by the water.
All week long, I had no luck. But on the very last day, just a few hours before I headed back to Vancouver, it happened.
I was walking with a guide, strolling along the beach, taking in the fresh air, listening to him explain how gestating salmon find their way back to their birthplace several kilometers upstream to lay their eggs and die.
As we strolled, we saw fresh tracks and bear droppings on the ground. We listened carefully: nothing. Once again, it probably wasn't going to happen. At some point, we decided to head back to our boat, and boom: there it was, standing about 70 meters away from us.
We stood still for a few moments, sizing each other up. I tried to stealthily raise my camera to capture the moment. From this distance, the photo isn't quite as powerful as the moment I actually experienced. The bear stopped for the blink of an eye, and then disappeared back into the woods. It was astonishingly light on its feet.

Homesick
…for Canada. This country and its variety of inhabitants – human and animal alike – moved me and stirred a sense of longing that has returned at regular intervals since. Am I homesick? Canada is always whispering to me, and sometimes the whisper becomes louder: come back soon.
Leica CL: a versatile choice.
Here is some more technical information on my camera, the Leica CL, for those who are interested.
This is a great camera to travel with – particularly for active types who don't want to carry a heavy backpack of equipment with them all the time. It's suitable for landscape photography. However, if you'd like to zoom in on faraway animals to a viewable size, you would need to take other (heavier and more expensive) lenses with you, such as those from the M series. These can all be attached to the CL with an adapter (even if the small body and the large lens together make quite the unusual-looking pair, though this is purely an aesthetic detail and doesn't affect the pictures).
I had two lenses with me: a Summilux-TL 1:1.4/35 ASPH and a Vario-Elmar-TL 1:3.5-5.6/18-56 ASPH. If you know a thing or two about cameras, you'll be aware that the whole kit is worth about the same as a small car. I got the camera from Leica to try out. The price is worth mentioning, as this is, of course, an important factor for amateur photographers when buying a camera. However, it's also worth mentioning that this compact camera contains the same mirror you'll find in much bigger professional models, which Leica feels justifies the price. I took photos in DNG and JPG format. However, the large DNG file is required for professional photography, where images need to be dramatically enlarged or printed. Otherwise, JPG is perfectly fine and doesn't fill up your memory card as quickly as large DNG files.
To sum up: I'm happy with the quality of the photos I got on my Canada trip. I would have liked to have one of those monster lenses with me for the animal photos. That way, I could have told my dramatic tale at home with even better illustrations.
Text and images: Anna Maier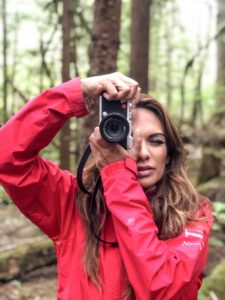 Newsletter
Subscribe to our newsletter and you'll get notified every time a new article is online.