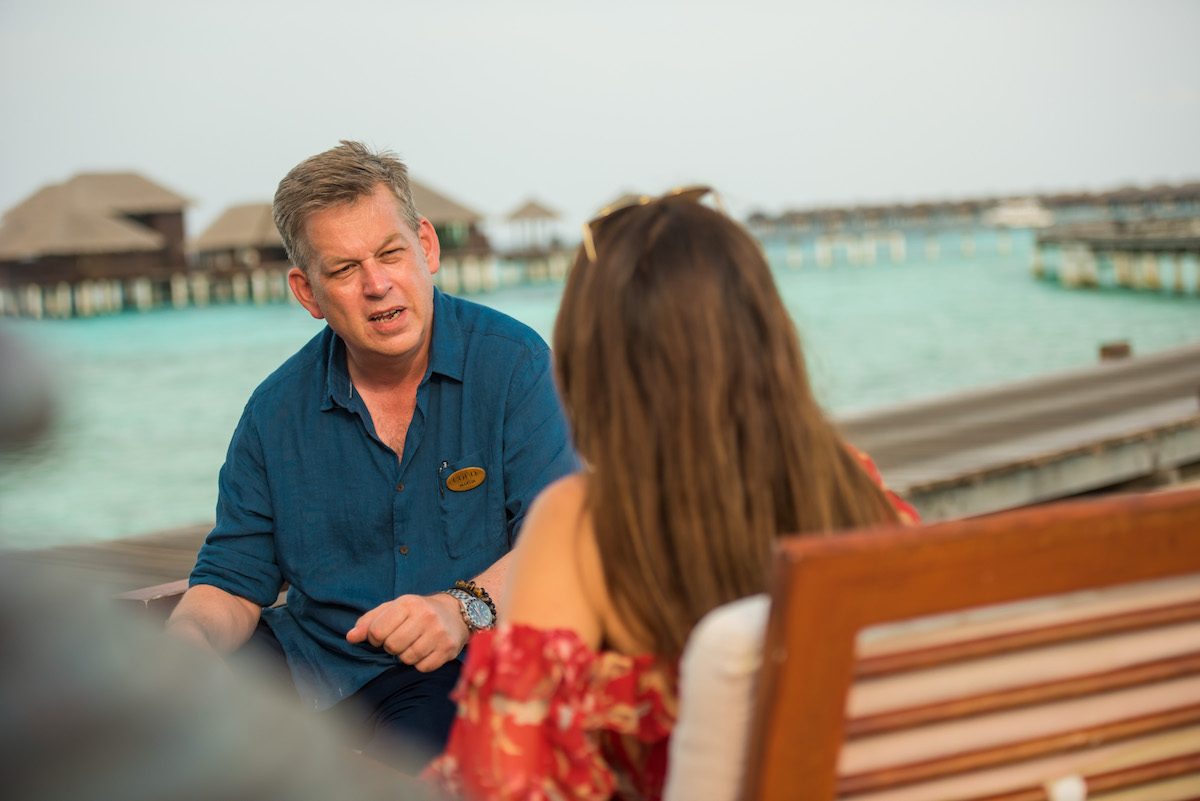 "I saw things I can't even speak of." Martin Lount, 50, General Manager
How does a man who cooked in top London restaurants to world's crisis-hit areas and conflict zones wind up as a General Manager in the Maldives? From the First Gulf War to a tourist paradise – a conversation about culture shocks, crises and a life on the run.
How does he survive this superficially perfect, glossy world?
I asked myself this question when I suddenly and unexpectedly bumped into Martin Lount with his extreme life story.
I was spending a week in the Maldives with my family, on an island he had been running for just a few months. I struck up a casual conversation…
…and suddenly found myself with my recording equipment, back in the midst of an interview. My original question about how a family functions over long distance – Lount has been married for over 20 years and has two daughters aged 18 and 20, who all live in Dubai – was taken over just two or three lines later by his much crazier life story.
No, I didn't expect to meet someone who has lived in so many of the world's crisis-hit areas in this island paradise.
"My father said: 'What's going on?! Cooking is for girls!'
Anna Maier: You traveled around some of the most adventurous regions and countries as a chef. Now you're a General Manager in paradise. What happened in between?
Martin Lount: Yeah, I've squeezed in a whole lot of lives… I actually started out in mechanical engineering. Isn't that funny? My father worked in mechanical engineering in London and he really wanted me to join him.
He was an engineer and got me my first job stacking shelves in a grocery store when I was 14. He said: "Nothing in life comes for free, son. Get to work!" So, I started working and I loved it. I did it for four years. I worked at a technical college in Britain on the side, and I was supposed to become an engineer. But one day, I said to him suddenly: "I'm not interested in this at all. I want to be a chef."
What was his reaction?
Well… My father is old school, ex-Army, so he said: "What's all this about? Cooking is for girls!" But I applied to the local cookery school without his permission and, to my surprise, was accepted.
You'd never cooked before?
Never! And I didn't have a lot to live up to: my mother wasn't a particularly good cook (laughing).
Why do you think you were accepted to this school?
I had an admissions interview with the faculty – my father was there. Back then, I was a very quiet, very shy young man! So I entered the room and talked for an hour and twenty minutes without stopping for breath. I just didn't stop talking. When we left, my father looked at me and asked: "What happened to you? Where did all that come from?" And from then on, he actually did get behind me 100%. Because he saw that I just really wanted it.
Where did this enthusiasm come from?
No idea. It was just there all of a sudden. I knew: "I'm going to be a chef." I did a few personality tests, which was perfect, because it became apparent that I'm more of a practical person, not an academic type. I made the perfect choice. Something creative. A job where I could make something with my hands.
It went really well. I was one of the best trainees in my year and became an "honors student". When I finally got my diploma two years later, it took me out into the world.
You see, those were the good old days, without Internet. You had to go to employers directly and introduce yourself in person. So, for about two weeks I went round the kitchens in London, knocking on doors and saying: "Excuse me, can I speak to the head chef? I'm looking for work."
"I got myself into difficulty on the very first day."
And you couldn't find any, so you went abroad?
No, I found a position. A really good one, in fact, at Claridge's Hotel in London. I knocked on the back door and came upon a gentleman who was the maître de cuisine at the time, and he said: "Yeah, OK, I need somebody."
It was one of these real old kitchens. Not modern, the way TV chefs like Gordon Ramsay run a kitchen today. It was really the tough old school, with different divisions of labor.
What was your job?
The problem was: I got myself into difficulty on the very first day. In our team, there were management positions and different commis levels. I was a commis 2.
The commis 1 said to me: "You clean my station." And I answered: "No, you'll clean your own station." Well. The next day, I was ordered into the head chef's office. He truly made mincemeat out of me…
On your very first day?
Yes, my very first day. I got read the riot act for the first time, and they told me: "OK, you're going to have to learn a little discipline first!" So – for two and a half months! – I had to peel potatoes and turn vegetables.
And you did it?
Yes, I had no choice. But it was tough. You know, when you're an arrogant little upstart, with your degree in your pocket, you think: "I know everything. I know absolutely everything."
"I get bored very quickly."
Why were you such a rebel?
I think I have always been a little one or a big one if you ask around. I get bored when things are always the same and people accept this as a norm. Sometimes, you need to change things, whether it's your working environment, your industry, where you are or what you want to do.
Are you afraid of being bored?
I hate the thoughts of routine, I get very bored very quickly. I always good to look for that new challenge and changing the norm.
I think this comes back to my father.  He lived and worked for 26 years in London. He got up at the same time every day, always left the house at the same time, went to the same train station, always stood in the same spot waiting for his train. He entered the same carriage doors, he got in ad sat in 'his' same seat every day for years, he would even get annoyed if someone else had already taken 'his' seat. (laughing). This was normally, he would see and travel the same people for that many years….. They go old together, even stressing him when they retired or passed away.
You wanted a different life.
Oh yeah! I wanted something totally different. You see, my father was in the British military service for 24 years.  When he was first stationed in Berlin, my father met my mother. He left to Korean War but always stayed in contact with her until he was returning to Germany where they got married. My brother, my sister and I were all born in Germany, in the same hospital and the same hospital bed. It is a shame don't speak any German, but my mother is German, from Berlin.
So, my father was in Germany, he was in Malaysia, in Yemen, in Kenya, in Korea, he had already seen most of the world.
He was a traveler, too?
He was a great traveler and a wonderful story teller, as a professional soldier, he went, saw and fought many, many places. I grew up with his stories about life in Malaysia jungle, in Berlin before the wall, in a frozen trench on a Korean hillside, sitting on a tank with 10 Nepalese Gurkhas in the highlands of Hong Kong while watching 50,000 Chinese soldiers below in main land China or being chased  loins while on army patrol in Kenya, he has lived unbelievable life. I think that moved me deep down.
"My mother died when I was five."
What happened to make him live such an ordinary life after his time in the army?
Maybe he wanted to calm down.
It was not easy for my father: After completing his service and leaving the army, sadly my mother was diagnosed with cancer and died suddenly… leaving me as a five year old, my brother and sister were 13 and 14. Unimaginable he worked in an engineering company, he was alone with three children, his work, enrolled in night collage all of this without his wife. He worked tirelessly.
Remarkable and until this day I don't know how he completed his Masters in mechanical Engineering in two years – it normally takes five – plus work and and a growing family. He was a true hero, an extraordinary man, even though I don't tell him often enough.
He's still alive?
Oh, yes! He's still alive and well. And he still enjoys life. He had been married three times, and currently seeing his fourth girlfriend. He is an old tiger but really sweet, he actually came to me at one point and said: "Martin, you know, I've been on my own for years now I've met this lady."
I said: "Okay-y-y." – "I'm 84 and she's 86." – And I said: "What? You toy boy!" (laughing)
Now he is an old toy boy and they've been friends and company for almost four years now.
"My father is a hero. Even though I don't tell him often enough."
You've been living and working abroad for decades. Has he been to visit you?
Oh yeah. Many times when we lived in Turkey or Dubai, because Dubai is an attractive destination for older people. I don't think he has as much wandering now he's old and he is very happily living in a beautiful English village. But we get along well, and I share with him about all our adventures.
How did he manage to finish his Masters, learn his profession and then raise three children on top of it all?
I honestly have no idea. And that's exactly why he's a hero. He just did it, and never really complained.
You didn't have a nanny?
A home helper for a couple of days, but my brother and sister became really independent and took care of after each other. My father had to be cool but firm.
He had so many incredible stories to tell. You could written a novel about him – he had an unbelievable life.
I think it has become almost normal for me – all those stories of adventures, exotic locations and interesting people – for me it became the obvious to be a traveler.
And I got his passion. I was really a very passionate man. I was burning inside.
In what way?
I trained as a professional chef and worked in many of London's top hotels and restaurants. In those days the chef's life was hot, tough, and even violence… it was never easy, a really "hard man's job". It was normal to work 12, 14 or more hours a day. Then go out and having a 'real party' all night, then go back to work, sleep in your locker for a couple of hours and do the same next day. And the next day and the next day until you collapsed on your day off and sleep for 24 hours. And that's what all chefs did then.
In the 80's and 90's I think Chefs were real men… really wild men. That's how it used to be, anyway. I'm not sure whether that's still the case today. Today, many of these young chefs are probably too busy entertaining their internet fans and Instagram followers.
"Being a chef isn't a job, it's an obsession. Most are obsessed with food."
You've clearly enjoyed a long career, and lived your wild lifestyle to the limit. When did you really get going?
Only when I met another British chef, who  – how do I put it? (laughing) –, went overseas on holidays, but was working at the same time. He was on a kind of "working holiday".
He had just came back from Ghana, in West Africa, and said: "Oh mate, you should go abroad. You can make a whole lot of money there." At the time, I was really poor, I mean really, really poor, I was making GBP 40 a week and spending about GBP 25 on bus travel and other public transport, so I only had GBP 15 left.
How did you survive?
Had to live at home with my father. That was the only option. Chefs don't get rich, unless they get famous or had a serious position within a great kitchen.
We do this job because we love it. Most European chefs are obsessed by food. You would be amazed if you could see how passionate they are about finding the right ingredients, trying them out, finding out how to prepare and cook properly, and serve them well. That isn't a job, it's an obsession.
"Other people read novels – I read cookbooks."
Why did you give it up?
I would not like to see myself as a 50-year-old chef in a kitchen. But food is still my passion. And everything still revolves around it: I'm crazy about food. I don't think a day goes by where I don't see a new recipe somewhere.
Other people read novels – I read used cookbooks, which is really strange (laughing). You open them up and find out how to prepare this or that. I've got a library with 4,000 cookery books back home in Turkey.
You call Turkey "home", even though your wife and children live in Dubai?
Yes. Our home is in Turkey. My wife is Turkish. I always tell people when you marry a Turk you become a Turk automatically. We try to meet everywhere and wherever we can. She comes to me, I go to her, and once a year, we try do a big family holiday but as my girls are all working now this is becoming harder and harder each year.
The last time we were all together in London last year. I won't do that again for a few years only there for a week and they ruined me financially (laughed). I was bankrupt (laughed harder). You know I got three girls, and it was a bit like this: "Ooh, that's lovely, that's nice, and that's lovely! Can I have that, can I have that, and can I have that?" We went so many times to one shop in Oxford Street I befriended the security guard on the door and we entertained each other while the girls shopped.
But listen: I hadn't seen them for six months, so Daddy maybe got a bit too generous, but at least we left poorer but happy.
How do you manage to maintain a family life over such a distance? It seems incredibly complicated.
It is really complicated. Luckily, we have these new technologies. We write each other WhatsApp-messages about 20 times a day – even to this point we have family argument over it!
But that's no replacement for a real conversation like we're having just now.
Yes, that's true, but you notice when the kids get a bit older that you stop being cool anyway (laughing). Mum and Dad are very handy when it comes to paying the bills, then they are cool again.
My youngest has so many friends who she spends all her free time with. My older daughter works and my wife has the situation with the kids in Dubai to control.
And is your wife content to communicate via instant messaging alone?
Umm, no, of course not. But we try to speak over the phone at least two times a week.
When I accepted my job here in the Maldives, I thought first of all: OK, I'll leave my family in Dubai where it's familiar and see how it goes. They can follow me. But that never happened. I asked my wife and she said very clearly: "It's fine the way it is, I'm happy here." – "OK, well you stay there, and I'll travel back and forth," was my answer.
Over the past years, I've traveled a lot, a whole lot.
"I found a job in Saudi Arabia. A couple of weeks later, the First Gulf War broke out."
You told me that someone advised you to go abroad. Why did you ultimately decide to do it?
Now, looking back on it: I was in England, earning practically nothing as a chef. It was just impossible to live a "normal life" – you know, doing really normal stuff: taking out a loan, buying a house, settling down.
London chefs were as poor as church mice, or most of them. Anyway, and I told myself: "OK. I'll go away for two years."
I found a job relatively quickly in Saudi Arabia, in Dhahran. I took the job, arrived in Dhahran, and then the First Gulf War broke out just a couple of weeks later. I was in Saudi Arabia for the Gulf War, right in the thick of it, scud missiles and all.
Whom did you cook for?
I cooked for everyone. Our hotel was the allied forces' command center, so US General Norman Schwarzkopf was there, also was the Chairman of the Joint Chiefs of Staff, Colin Powell – all the important people in the conflict.
We prepared thousands of meals, hundreds of hamburgers, three times a day. We cooked for everyone: for the soldiers, for CNN, all the international media, for all the famous people. It was also some kind of a media war. Everyone was watched it on TV, it became everyones daily live entertainment, really. I think it was the first live war.
And – whoosh – it was all over in just two or three weeks. We had prepared ourselves for the war for six months and then it was suddenly over. But at that time, we had to feed 80,000 to 90,000 people each day.
Didn't you want to leave right away?
I couldn't.
Why not?
There were no scheduled flights. They lured us in, too: When we told the manager we wanted to quit, he doubled our wage at that time and for that amount I would have stayed anywhere. Well, I was young, stupid and had no responsibilities.
Weren't you afraid?
It's not that we weren't afraid – it was more that we were naive. You just don't think about it. You work, you have to feed all these people and do so many things.
We were only afraid when Scud missiles were fired at our hotel started to landed in and around the hotel. Then we had to run down into a bunker or the downstairs kitchen and wait to see what happened. In the end, it happened so often, we just lived in chefs offices.
"Everywhere I went, something terrible happened."
After your time in the Gulf War, you also went to other, relatively dangerous places. Did you choose these conflict zones and crisis-hit areas deliberately?
Now, I think it happened more by accident. When I think about it, it strikes me that it's true – everywhere I went, something happened.
I lived in Hurghada in Egypt, when the attack in Luxor happened, where 36 Swiss tourists were killed. After that terrible attack, there was a recession in whole Red Sea area, the hotels just emptied within the space of one day.
Then I went to Turkey and stayed there for two years. It was twenty years ago, Turkey was kind of an uncool and very conservative country, even though it has been a great time as I met and married my wife there.
"My wife is a Mediterranean woman, temperamental and very proud."
Where did you meet her?
I met her at work, in a small coastal town called Mersin, where she was working as a waitress. She was loud and didn't pull any punches, my head chef ended up calling her an "angry chicken", which drove her crazy. Absolutely crazy.
Remember, my wife is a real, dyed-in-the-wool Mediterranean woman, temperamental and very proud. So, you shouldn't just call her an "angry chicken".
In this period, I also learned how to cook Turkish food, one of the best cuisines in Europe. Very complex and simply delicious.
We had a wonderful time and lots of fun. Mersin is a great town with friendly people.
Then, in 1995, we went back to Egypt together, and that was the time when there was an earthquake. One of the few earthquakes Egypt ever had.
Where exactly was that?
Near the Sharm El Sheikh resort, more specifically in the Gulf of Aqaba, though it has been felt all the way in Cairo, where we were living. I remember it was 6am, we were on the 19th floor of a building in downtown Cairo.
We were living in a hotel that was very poorly sound-proofed and you continually have been able to hear noise of the rooms around you. My wife woke me up and said: "Martin, Martin, what are they doing next door? They're making so much noise." I said: "OK, I'll go take a look!", and got up, still half-asleep, and the room went like this: back-and-forth-and-back-and-forth.
Everything was moving… and I immediately realized: "It's an earthquake!" I told my wife: "Put your shoes on. We have to leave the building." So we were on the 19th floor of a 30-story skyscraper in Cairo, and my wife put on the first shoes from the wardrobe – high heel sandals! -, because she has been half-asleep and she wasn't conscious of the drama of the situation.
She escaped in high heels?
Yes. We ran out the room and down the emergency stairs. You could hear her going: "click-clack, click-clack, click-clack." Tourists from Japan were running past us. European tourists were running past us, and my wife: "click, click, click, click."
We finally made it to the lobby, I opened the emergency exit and the first thing I saw was the general manager in his Pyjamas, like my grandfather's: flowery silk pyjamas. I turned around to be face to face, then I saw his wife in hair curlers and a facial mask. It was like being part of a comedy show. I didn't know what frightened me more in that moment – the earthquake or that comical pair.
Then, we moved to Indonesia. There was an uprising against Suharto, the president of the country. I was in my office on the 40th floor of a skyscraper, and you could see fire in the distance and smoke rising.
Syria was our next destination. In those days, Syria was a beautiful country with beautiful people. I think that was even one of the best places I stayed. I was there in the good days.
"Ten thousands of suitcases lay there, all jumbled up together. What a scene."
Why did you leave?
My wife got pregnant, so we both moved to her home country, Turkey. I began working there. Our oldest daughter, Isabella, was born.
And then, shortly after the collapse of the Russian Federation, I got a job in Kazakhstan. This little independent nations were emerging at the time. I had a job in a small place, which is now the capital, Astana. It was a real one-horse town, not the incredible capital of today, and I was charged with opening a new hotel. Ah, that's another story… It was just such a scene.
When I left Turkey on September 9 – I remember it well because it was my birthday – it was 35°C in the shade. We'd been taken to the old airport in Istanbul where the freight airplanes took off from. We went to a huge hangar, there were little tables and tickets were being issued.
Then the bus came. All those old women with an endless number of bags ran to the bus, afraid that there wasn't enough space for all their belongings to squeeze in. It took us 25 minutes to reach the other side of the airport, where we boarded a turbo-propeller plane.
The doors opened, and all the Russian and Kazakh women ran to the airplane again and I only thought: "Oh, wow!"
You didn't have a reserved seat?
There were no reserved seats. It was like a chicken coop – the whole space was full from top to bottom. Everyone's things had to go in, and there obviously wasn't enough space. I went to the stewardess and said: "Here's my ticket," and she said: "So. Find a seat!"
So, I flew for 9.5 hours over Central Asia, squeezed in between a Russian woman and a Kazakh mother with her baby. I'm six foot two and I was stuck between these two lovely large women.
When we arrived and got out of the plane, it was around 0°C. So I went from 35°C to 0°C.
Were you prepared?
Umm, no way. At the time, there was no Internet, so we couldn't find out about the places in advance. We got out and I said: "Excuse me, can I please have my suitcase?" – "I don't understand!"
Finally, I found a woman who spoke a little English and asked again: "Can I please have my suitcase?" – "No, tomorrow." – "What do you mean, tomorrow?" – "Airport is closed. Tomorrow!" They just closed the airport.
There was no baggage claim?
There was no baggage claim. I climbed into a tiny minibus in light trousers and a short-sleeved T-shirt. I arrived at the hotel, the first thing I asked was: "Can you please lend me a sweater?" I almost froze to death.
The next day, early morning, I went straight back to the airport to look for my luggage. We went to a hangar to take our suitcases – with no help. They opened the doors with this incredible view of around 30,000 pieces of luggage, including from other flights. And they just said: "Look for your suitcases yourself."
So, it was two hours wandering around looking for my suitcase. And absolutely everyone had a black suitcase; of course I had one in black, too – try looking for that!
Didn't you ever ask yourself, just for a second: "Why am I doing this?"
No, I actually asked myself: "Why shouldn't I do it?"
"Life just happens, whether we play along or not."
Does that mean you simply take life as it comes, no matter how crazy it may seem?
Well, life just happens, whether we play along or not. And I've learned something: what doesn't kill you makes you stronger. That's actually true. You can have unforgettable adventures if you get stuck right into life. And stories you can tell.
We had our first child with us. The first snow was falling. That means it was minus 50°C outside at Christmas. I come from south London, and I'd never experienced minus 50°C! My wife complained it was stupid to have brought a baby there, but the time we spent there helped us grow and mature.
We went to a few unforgettable parties. My wife had a little too many 'pink' vodka and getting into snowball fights at minus 30 C on a snow covered roof in high heels and a mini-shirt because she couldn't feel the cold any more. My daughter got frostbite on her little fingers – luckily only at her fingertips – because she took her gloves off. 
It was all a huge adventure. The worst thing about the story was that I was working for a private company that didn't pay us for six months.
How did you get by?
With difficulty. We lived in the hotel, because no one was there at the time; Kazakhstan was unknown, and the hotel had no guests.
"Please get me out of here! I have a wife and a child."
Why did they hire you if there weren't any guests?
They probably thought that if you hire staff, then business will start coming, too. But it was a real sleepy hollow. It was like in these Old Russian films: steaming pipes poking up out of the ground – a frozen wasteland.
Then the people from the hotel – an international hotel – came to help us. I slipped them my resume and said: "Please get me out of here! I can't stay here, I have a wife and a child." And then we went with them to Uzbekistan.
Was it better?
A thousand times better! A city with four seasons. Tashkent still had the old Russian flair. The people were lovely, friendly and warm. And the city was on the old Silk Road, which meant you could travel to places like Samarkand, Bukhara or Khiva, which weren't yet tourist destinations at the time. On the Silk Road, there were beautiful, stunning things to see. All that traveling – those were amazing years. Just a brilliant place to live.
Then I went on holiday to Dubai. One of my old friends got me a room during that time. The General Manager spoke to me: "Oh, you're a food and beverage manager? We're looking for one." And then – this really happened – we had a sort of interview over breakfast. When breakfast was done, he said: "I like you. You must come and join us." So, I went to Dubai with my family, when it was still a desert city. We were all alone. There was no Silicon Oasis, no Dubai Marina – nothing! There was almost nothing there.
No tourists?
Not many, no. It only became a tourist hub later on. We moved there and stayed for another two years. My wife worked in real estate, renting apartments and houses.
One time, a very well-known and important sheikh in the Emirates, invited my wife on a tour through the Emirate Hills district, the first private estate development in Dubai. And they said: "We like you. We'd like to hire you to sell our houses." My wife said: "What? Really? Sell houses in Dubai? Who wants to buy a house in Dubai?" So she didn't do it. If she had, she would have been a multi-millionaire by now (laughing).
And you might have had your own island… (laughing)
Yes. Back then, in 2000, I worked right on the beach and you could see Palm Island springing up in the distance, the first bulldozers working there. Every two weeks, we went out in our motorboat and cruised around the island. So I was one of first to travel around the now world famous Dubai Palm Island. Yes, those were interesting times.
"What kind of car do you drive? What do you do?"
What's it like in Dubai? Countries or cities with a lot of expatriates usually undergo a constant process of rapid, major change, just like you, always on the move, always in transition, no stability.
I began to really dislike Dubai; many expats there are awful. It doesn't matter who you are and what kind of person you are. All that matters is: "What do you do? What kind of car do you drive? How much money do you make?"
Isn't this kind of expat community the same all over the world?
No, I don't really think so. Back then, we had come from Russia, and our expat community there consisted of about a thousand people. And everyone – from the World Bank, from the IMF, from all these international organizations – was thrown into the same pot and tried to get along with each other. That worked really well: you met people, you made contacts, and you celebrated together and helped each other.
Is it different in Dubai?
In Dubai, it's all about: "What do you do?" – "I work for a hotel." – "What can you do for them?"
But your wife and your daughters obviously still like living there.
Yes, they do. My daughters were still small when we moved first to Dubai. My youngest was just one and my oldest was three. We thought it was the right age to settle. At least good for the family.
"My daughter had to name me an artist who was a financial success. She couldn't find any."
What are your daughters doing today?
Working luckily; my older daughter wants to become an artist. I'm a really practical dad: When she first said that, I gave her an iPad and said: "Sweetheart, I'll give you two days. Find a job as an artist that pays a decent wage, and you can become one." She gave the iPad back to me two days later and said: "OK, you win." (laughing)
Did she give up her dream?
No, she still has it, but now she's got a proper job.
I'm a bit surprised by your reaction, after you told me that you became a chef, despite what your father originally wanted. You just saw your own thing through.
I don't think my father really accepted me wanting to become a chef. I think he was simply happy that I had a dream in life. Actually, I think my father was just happy that I was making progress.
My daughter trained as a chef, like me, but she's currently working as a hostess in Dubai. At 20. She's got a talent for it. If not she can be a painter as long as she's happy.
And your other daughter?
My other daughter – we were very practical with her, too – studied tourism and works in the front office of a hotel. But she really wants to become an architect. She's doing her university entrance examination now in Istanbul.
"There were 700 guests at our wedding. Two from my side."
They say you should give your children roots to grow and wings to fly. I think, more than anything, you've given your daughters wings to fly, haven't you? Have you given them some roots, too?
Roots? Yes, we're a big family. Remember: I married not only a Turk but a Turkish family. There were 700 guests at my wedding. Two of them were from my side. My wife has a huge family.
You're standing in front with the registrar and your wife and it feels like you have the whole town there in front of you – and they ask you: "Do you wish to marry this woman?" at that point you have to say yes! (laughing)
But seriously: she's my best friend. I had to learn to be 'little' Turkish to survive; I had to get to know different cultures. That is a real life adventure, too.
It started at the wedding: we were sitting there, a pair of newlyweds, and each of us had to try and step on the other's foot. The person who steps on the other's foot first is the head of the family.
Who won?
We almost crushed each other's feet underneath the table. When the registrar asked: "Who won?", my wife turned to him and said: "Nobody. We tried, but we were even. It was a fair fight."
"I'm not running away from anything. I'm running toward something."
Listening to your life story, one might think you were running away from something. You've moved around a lot. Are you running away from something?
No. I'm not running away from anything. I'm running toward something. Let me think about it for a moment: am I running away from something? Interesting question. I don't think so.
OK, let me put it another way: what are you running toward? 
I still have a lot of adventures life and loves ahead of me. I just came here and discovered that it is the perfect place to learn how to dive.
Learn how to dive, and relax. You must find this peaceful oasis absolutely mind-numbing!
No, not yet. Really, I don't. I've had a fantastic life so far, it's true. Remember, I used to always work in hotels in cities, and everything there is about quantity. Here, it's very personal. I've grown away from the big international hotels and their billion-dollar structures.
Now, I'm focusing on the basics of being a hotelier. Modern hoteliers need to get to know their guests, and I often think we managers sit in our offices too much. There's no contact. But I need contact with people! For instance, I want to get to know Ms. Fisher. She's an environmentalist who's currently visiting the resort. Her husband is in the food industry. That's the interesting thing – here, we come into contact with the world. And the loveliest thing about it: nobody judges you for anything.
It's funny – you see guests arriving here and if they're staying for two weeks, they start off still wearing their beautiful clothes and shoes and doing all these romantic things. Eventually, they let go. They pull on a T-shirt and then you know: they're so relaxed now that they're not thinking about how they look, and they're just being themselves. They're just enjoying themselves and getting closer to their partners – or the opposite (laughing).
"We urgently need to reduce our carbon footprint!"
Do you have a dream? Something you'd still like to do in life?
I think that will change drastically again. I always wanted to be a great restaurateur and have my own place in Istanbul or another world city. But now, after just six months in the Maldives, I think that will change after my time here.
Perhaps I'll become an environmentalist and stand up for what we're destroying right now. I see myself in two completely different fields – as a hotelier and an environmentalist.
The Maldives are suffering as a result of climate change and tourists' mountains of waste. What are the biggest day-to-day challenges you face as a manager?
Well, everything here runs on diesel. We have four generators. Now, there's a need for new, more sustainable solutions, such as solar panels, and our carbon footprint on the island urgently needs to be reduced.
To make this happen, you have to re-educate guests, too. Many of them just leave the air conditioner running, since they're used to doing that in their home countries. Of course, we want to offer our guests a five-star experience. But they need to understand that the air conditioning isn't there to reduce the room temperature to 16°C, which isn't physically possible, because it isn't a hermetically sealed room.
Here's another example: Ninety percent of the products we buy are imported from the mainland, and that's expensive. All stuff needs to be flown into the country, then transported here from the capital city of Malé. You simply need to be aware of that as a guest.
When it comes to transporting food that goes bad quickly, like meat or fish, how does that work?
Meat needs to be chilled properly when it's being transported. We try to buy fish locally wherever possible, particularly sustainable fish. But then Europeans come to visit and they want smoked salmon for their breakfast… At the moment, we still have smoked salmon in our buffet, but it should go, because it isn't local.
Do you plan to reduce the menu, so you only offer guests dishes that are environmentally sustainable in the first place?
I'd like to improve the menu in order to use local produce. Fortunately, I want hydroponics here, too. A hydroponic farm for growing lettuce and herbs. And for trying to grow things like strawberries.
"I don't fill my life with things. I fill it with experiences."
One last question: what mark has living in crisis-hit areas left on you personally?
Now, I take nothing seriously. I've seen more than one war. I was in Syria during the second phase of the war and I saw things there I can't even speak of.
You know – life is too precious, you have to enjoy it now. People often say – and I usually find it a little insincere – "Start to enjoy every moment". But that's exactly what you've got to do! Enjoy every day and the people around us. Keep up friendships, don't hoard too much.
I've been living out of a suitcase for years now. I start a job with a suitcase and leave it again with a suitcase. I no longer fill my life with things. I fill it with experiences. I'm living.
Martin Lount currently lives and works on the island of Coco Bodu Hithi in the Maldives.
Writer: Anna Maier
Images: Ahmed Hassaan
Private pictures provided
Newsletter
Subscribe to our newsletter and you'll get notified every time a new article is online.