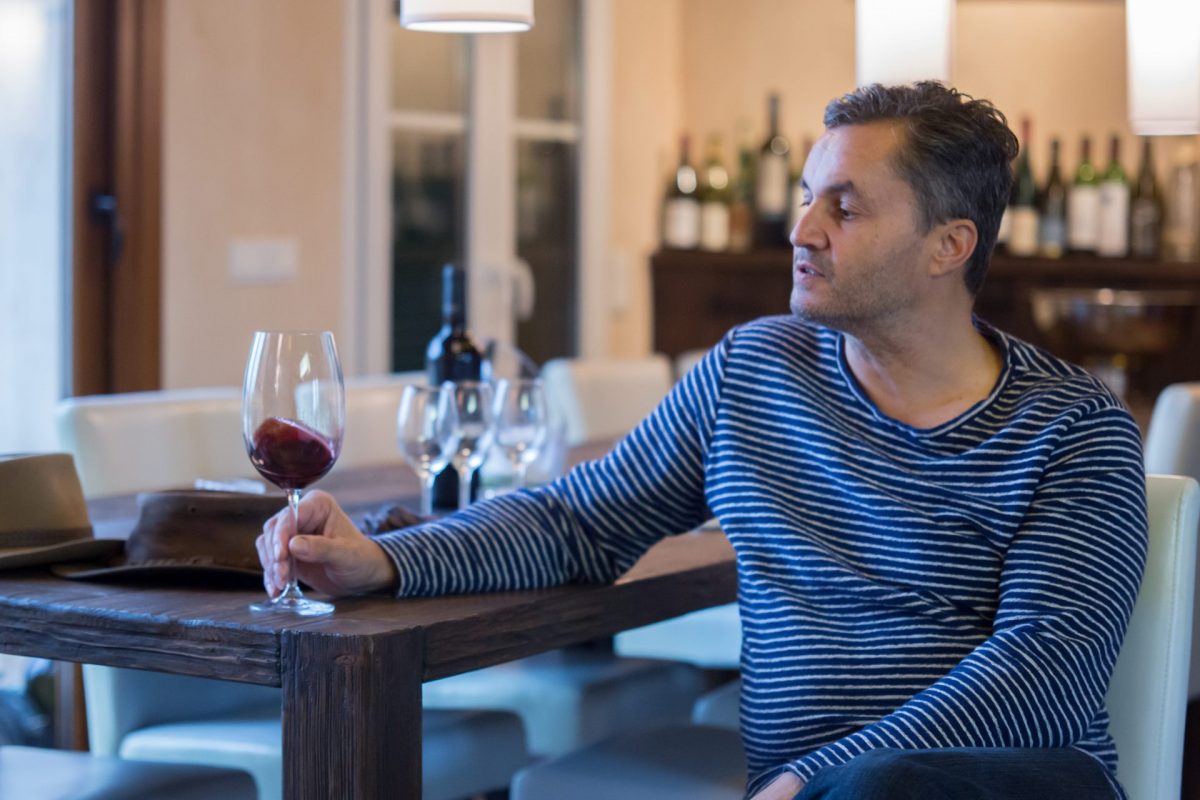 "I had everything but a life." Frank Maruccia, winemaker
With his online market research, he made millions. In Germany, Frank Maruccia was a pioneer, lauded by his peers. Today, he finds his riches in relaxation. As a winemaker, he focuses on the things that really matter.
"To be on the safe side." The Whatsapp message with a pin code to his winery arrives a few minutes before we have arranged to meet. "See you soon. Hope you don't get blown away." Somebody cares. The weather is truly nasty, though: a swirling storm of up to 65 mph is sweeping across Mallorca.
On his vineyard, there reigns a comparative calm. The 3.5-acre property looks neat and tidy. The vines are in orderly rows, and the spacious finca is simply and comfortably furnished. This is the home of someone with taste. A true aesthete. When Frank, the German son of an Italian father, offers to show me around, I immediately forget the inclement weather. The wine cellar? Nowhere better to start than the most important part.

The golden egg
A freight elevator he built himself descends into the deep. "It can carry up to three tons. I had it built for the 5,500-pound concrete eggs I let my Chardonnay age in. When we loaded up the heavy cargo, I was shaking."
The emigré was the first on the island to use concrete eggs for his white wine. "When you work with yeast, it lets it circulate more freely." Today, there are seven more wineries that use them. Maruccia, the pioneer. Even in his new home. In a field where he's a self-made man. He learned the ropes in Australia, South Africa, and the USA. "When you do something with passion and a little bit of instinct, it doesn't matter if you studied it."



A glass half full
The wine aficionado memorizes every drop and makes notes in a heavy tome. This helps him follow the fermentation process. I listen, fascinated, as he sings the praises of different "notes," or flavors, how he broods over acidity and bitterness.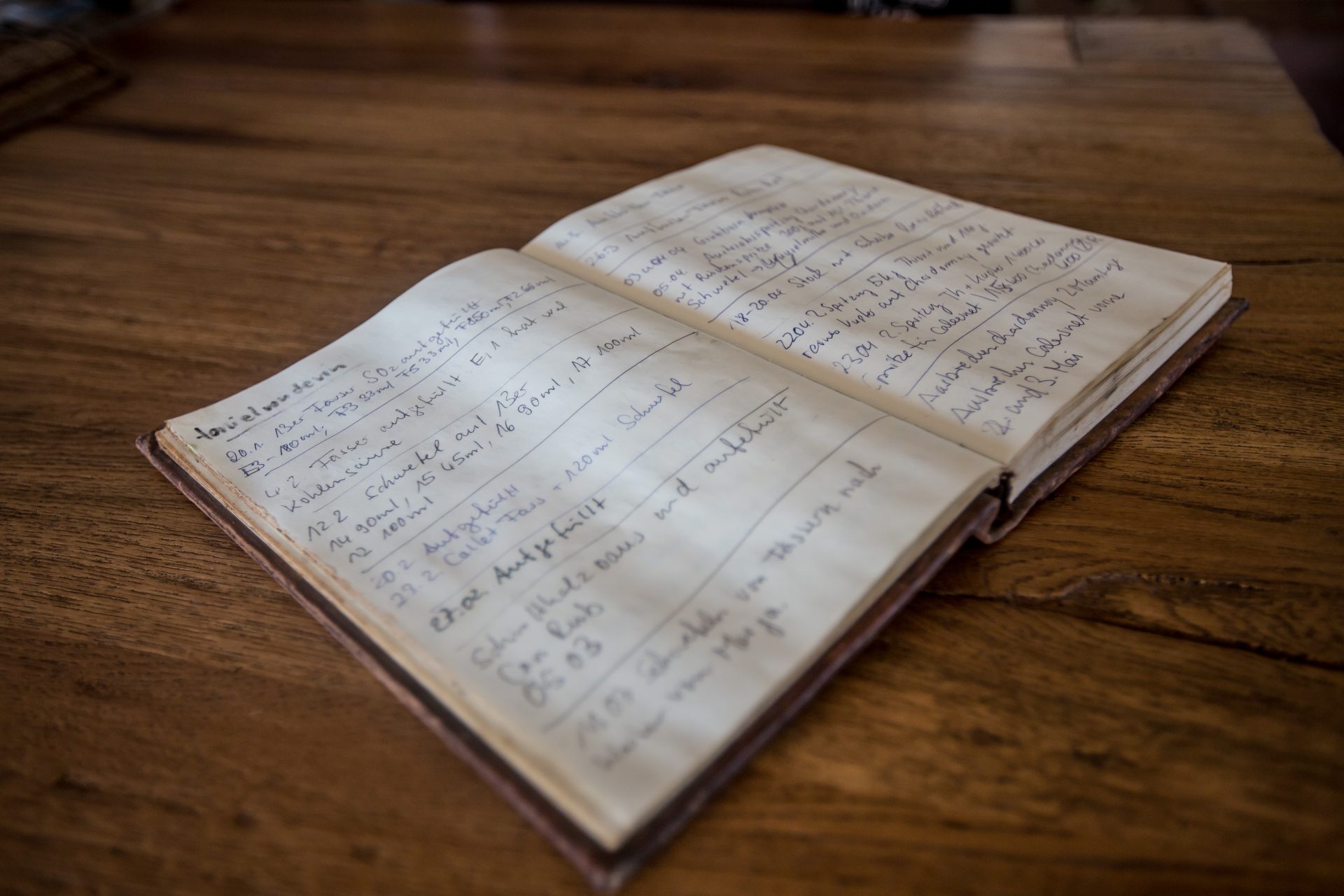 I try to imagine him as a businessman, as he was 20 years ago, when the "down-to-earth gentleman" – as he was then described by the newspaper "Die Welt" – shook up the market research industry. "Our competition totally missed what was happening." The Internet was happening.Frank Maruccia was the first to exploit it for market research. As head of the Hamburg firm Media Transfer AG, he built up international pools of web users to survey for studies. This made for shorter studies and surveys more specific than ever before. A star was born.
The dark side of success
His firm – a staff of four toiling in a little apartment – grew like wildfire. Four years and 30 employees later, they had taken up residence in a Hamburg villa. And yet Frank didn't feel like throwing a party: "I was completely obsessed. Which was bad: my entire social circle drifted away from me. All I did was work.
I was first in the office in the morning, last to leave at night. At home, I'd maybe watch half an hour of TV and go to sleep. The years just passed me by. It was exciting, because I built a successful business, but I paid a high price. If it had continued like that, I would have a lakeside villa in Hamburg, but at some point, it would have stopped being fun. I questioned a lot of things: is money all I care about? Having the best car, the biggest house? And then I said: I'm done."
Maruccia had everything young entrepreneurs dreamed of – except for a life outside of work. Hardly any friends, no healthy relationship. So he pressed the escape button. When he sold his business to an American company, Frank tasted true freedom for the very first time.
Cabin fever
From 1,000 to zero, like a retiree who feels put out to pasture? He laughs heartily at my comparison. "Well, I can't really spend half an hour lying on the beach or by the pool. After I sold the business, I went away for a couple of years. I wasn't working, I was looking for a place where I could live. After Australia and New Zealand, I went to Fiji. It was terrible! You can't do anything there except snorkel and read."
Swapping Tuscan times for Mallorcan climes
The fact that he finally chose Mallorca to set up home for his second act had something to do with the weather – "I'm a sun worshiper! Everyone hates it here in the summer. I love it when it's nice and hot." But there were practical reasons, too: "Being half-Italian, of course I looked at my father's homeland, too. Tuscany fell through. In terms of infrastructure, it was a fiasco. As I still had to fly to Hamburg regularly for my business as a Key Account Manager once I sold it, I was looking for a place with good links. Mallorca is ideal."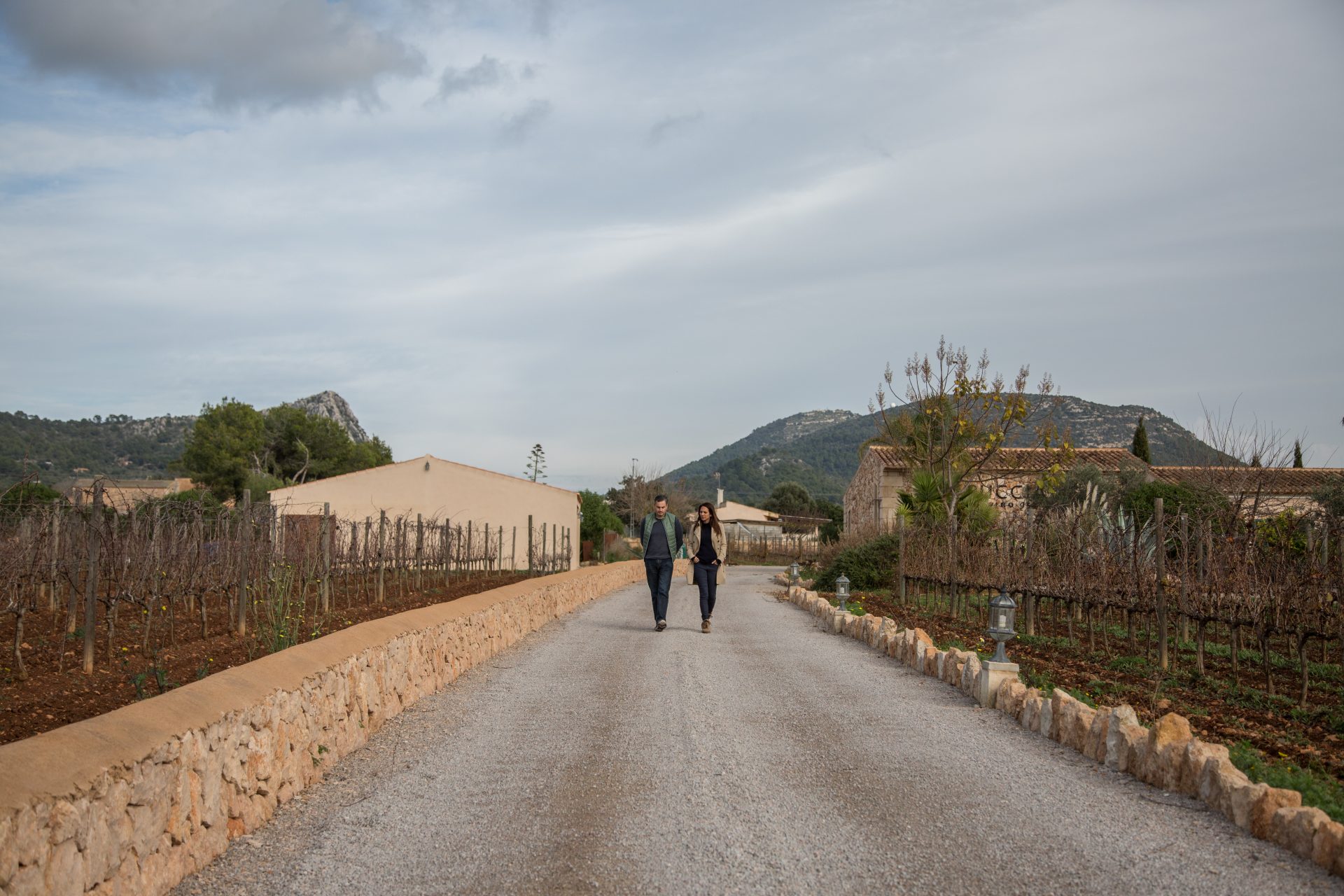 The first thing he did on the island was get rid of his cell phone: "The first few years after I came here, I didn't have a cell. I didn't want one. I hated being available everywhere." There weren't too many friends left who would have called. He completely burned his bridges in Germany.
A new degree of education
It wasn't the first time Frank Maruccia had broken out into a new world. You could call it running away or throwing off the shackles. The first time he was overcome by this need for freedom, he was very young. "I come from a very ordinary background. I only had a school leaving certificate. My father had an interior design company and said you don't need anything else, you'll come and work with me. But I was miserable. Eventually I prevailed, got my Abitur (high-school diploma) and studied Business in Augsburg and then Market Research in Northern Ireland. After getting a very ordinary degree, I was given the chance to do a PhD there. Of course, for the little boy with the school leaving certificate, this was very appealing. But at college, I would have wilted like a flower. I'm more practical than theoretical."
He might have decided to stay in Northern Ireland "by a whisker," partly thanks to his then-girlfriend, too. He still speaks English with a Northern Irish dialect to this day and raves about the place, although "the weather is just too bad." His sensitivity to the elements surprises me a little, although he seems to be sincere.
A lone wolf, not a sheep
Maruccia the restless has been living near the little town of Llucmayor for almost ten years now. The area was a well-known wine-growing region until the 19th century. Then the phylloxera wine louse came and destroyed everything.
Is it telling that the ambitious Maruccia, a passionate pioneer, is living out his dream of his own vineyard here and not, for example, in Bini Salem, where the ground is fertile and there are lots of wineries? "I love doing my own thing. Llucmajor is the original Mallorca. And the Mallorcans love the fact that wine is being grown here again. Although they probably thought at first: who's this crazy guy?"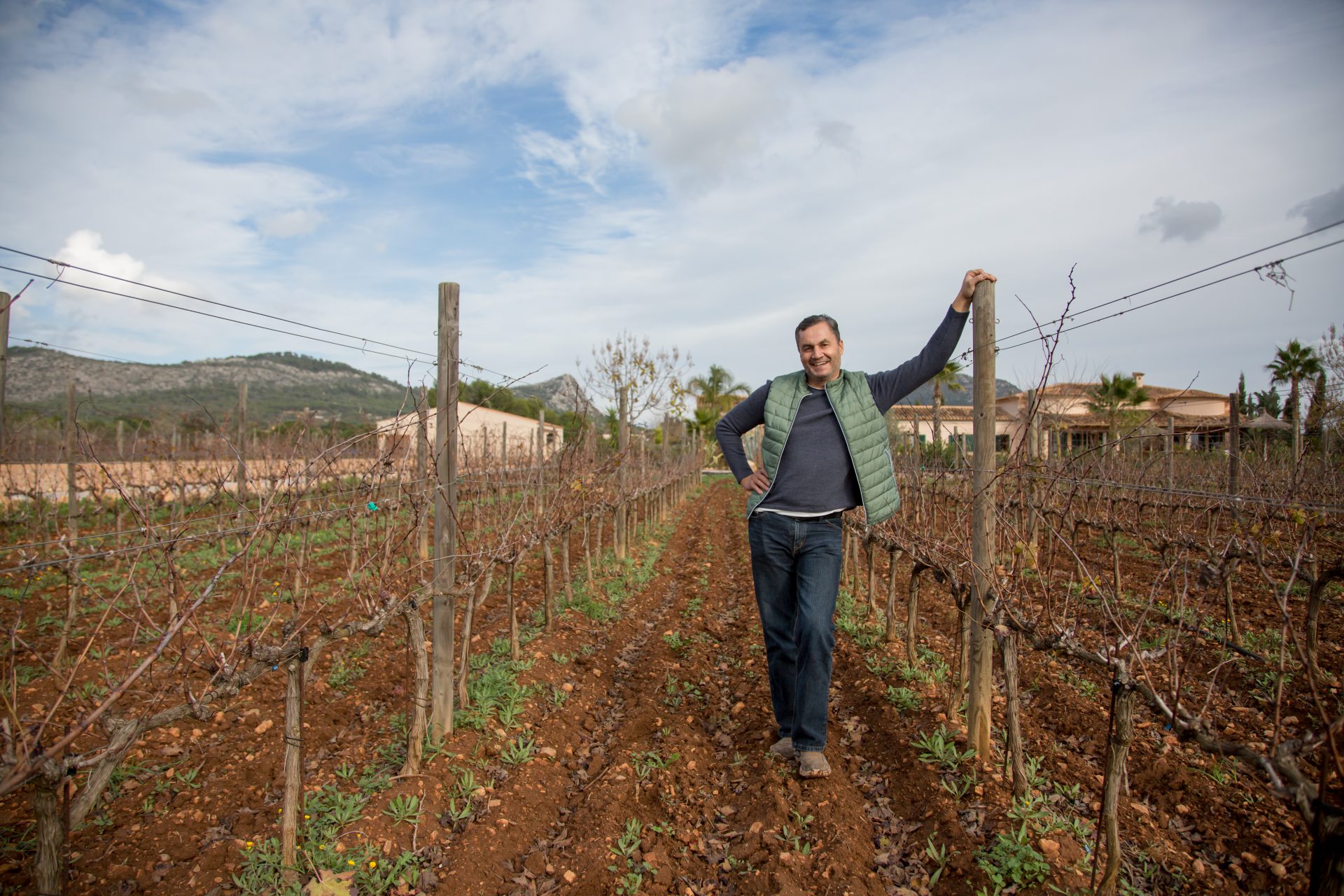 He's different. He knows this and uses it to his advantage. It may even be the secret to his success. "I only use rainwater for watering. Just what comes down, nothing else. You won't see any watering system here. I had an elderly blacksmith make me special blades for my plow to cultivate the ground, so I can drive through the vines and cut up the soil. In summer, I move it as little as possible, just like the Mallorcans used to do."
A substitute family
When he gets started on his passion, he almost can't be stopped. He talks a mile a minute, without taking a breath. You can imagine him in the middle of a crowd, gesticulating wildly, deep in discussion, in his element. That's exactly how he describes his childhood memories of his uncle's vineyard in Apulia, southern Italy: "I noticed then that you could only make very little money doing it. But I only have positive associations with it: you're together the whole time, running yourselves ragged, but then once your work is done, you sit down, eat and drink. There's such a sense of togetherness."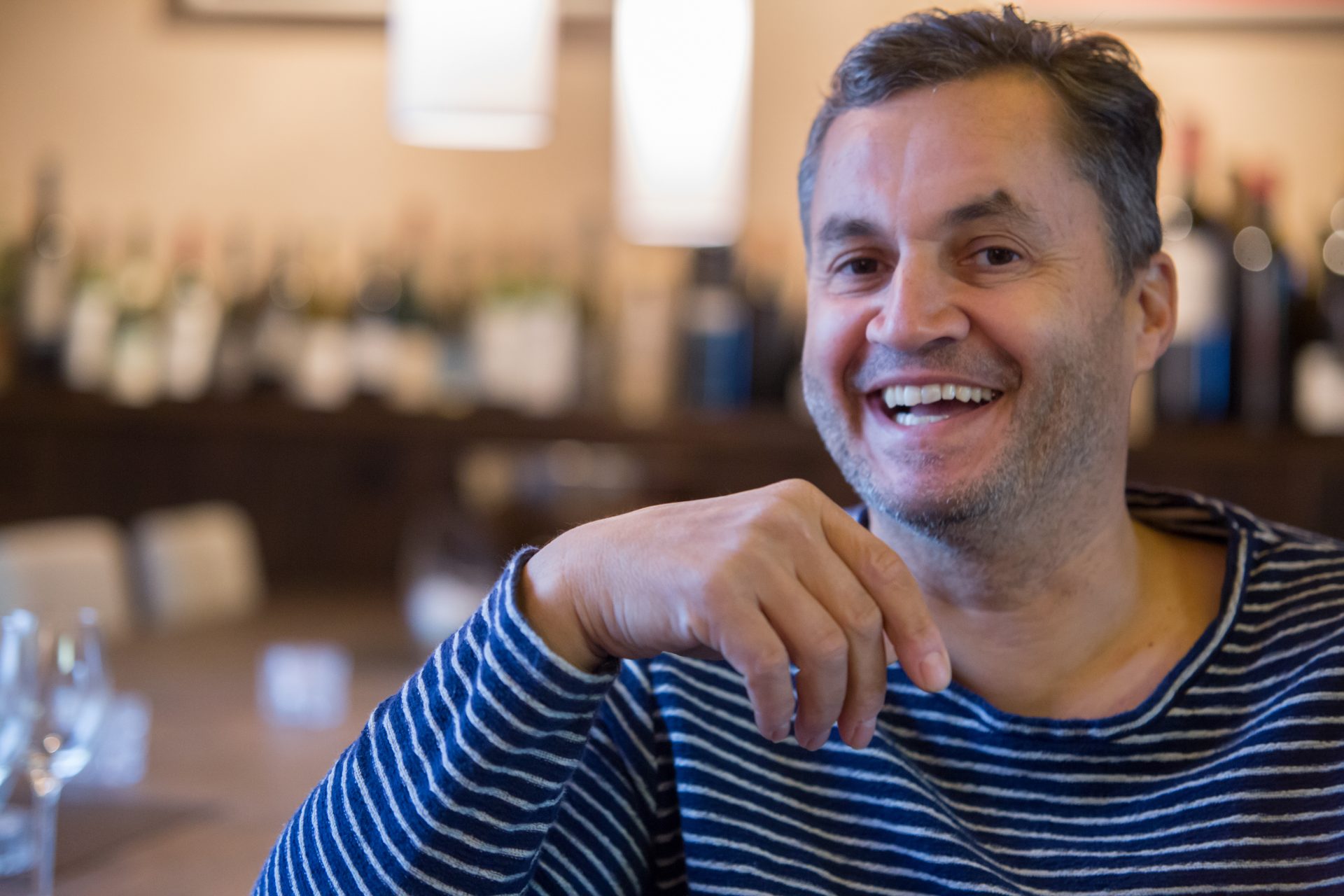 In his words, there's a certain wistfulness, maybe even a touch of loneliness. Could his winery be something of a substitute for family?
"I think so. With my wine and gourmet club, I've actually created a kind of substitute family. In any case, I've given myself the freedom to surround myself with people with whom I love to spend my free time. The fact I haven't had children has to do with my own background. I didn't grow up in a home with a good example of a happy marriage. I didn't want to have two or three children and then get divorced."
Fun among friends
The Club de Vino 953: the original idea that gave his winery its name was supposed to have just as many members. Each would have bought 10 of the 8,000-10,000 bottles produced each year. But Maruccia reduced the numbers drastically to 35 people. Familiar faces, just for fun.
"When I had around 300 members, I noticed that the concept was working from a business perspective, but not for me. It just became too much. Suddenly, I was surrounded by people I just couldn't figure out. Then I asked myself: who are you really doing this for?"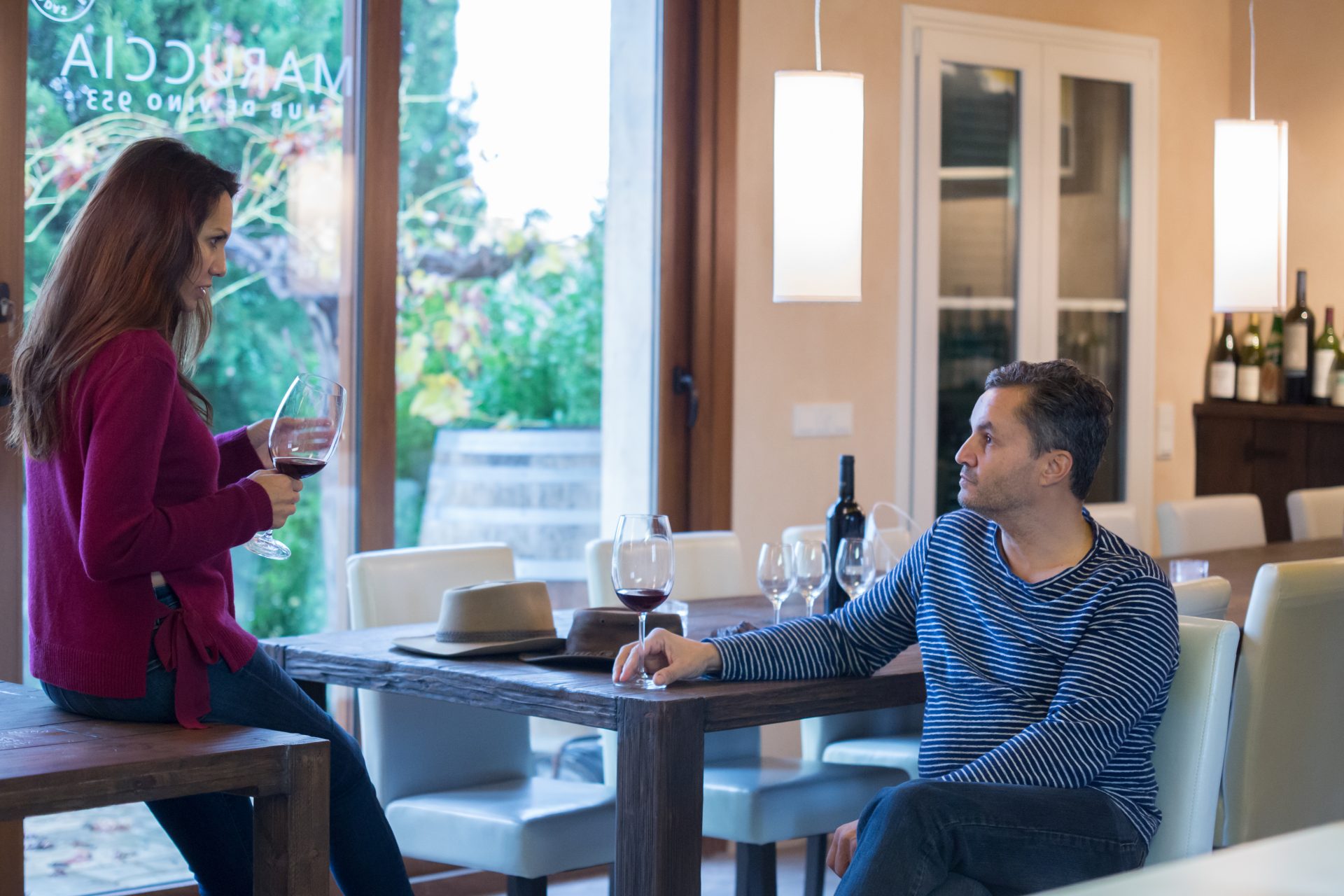 These are the words of someone who is defending his newfound freedom. A man who would rather find new ways to sell his wines to the right people, through innovative approaches like gourmet dining, rather than giving in. Someone who reached the highest peak and saw that life spent nestling in the foothills might even be nicer. "I'm comfortable here and I've created an environment where I can be happy. Even if happiness isn't a constant."
Aged 54, he's in the middle of his second life. Somehow, you wouldn't bet on it being his last.
Images: Vicki McLeod
Newsletter
Subscribe to our newsletter and you'll get notified every time a new article is online.