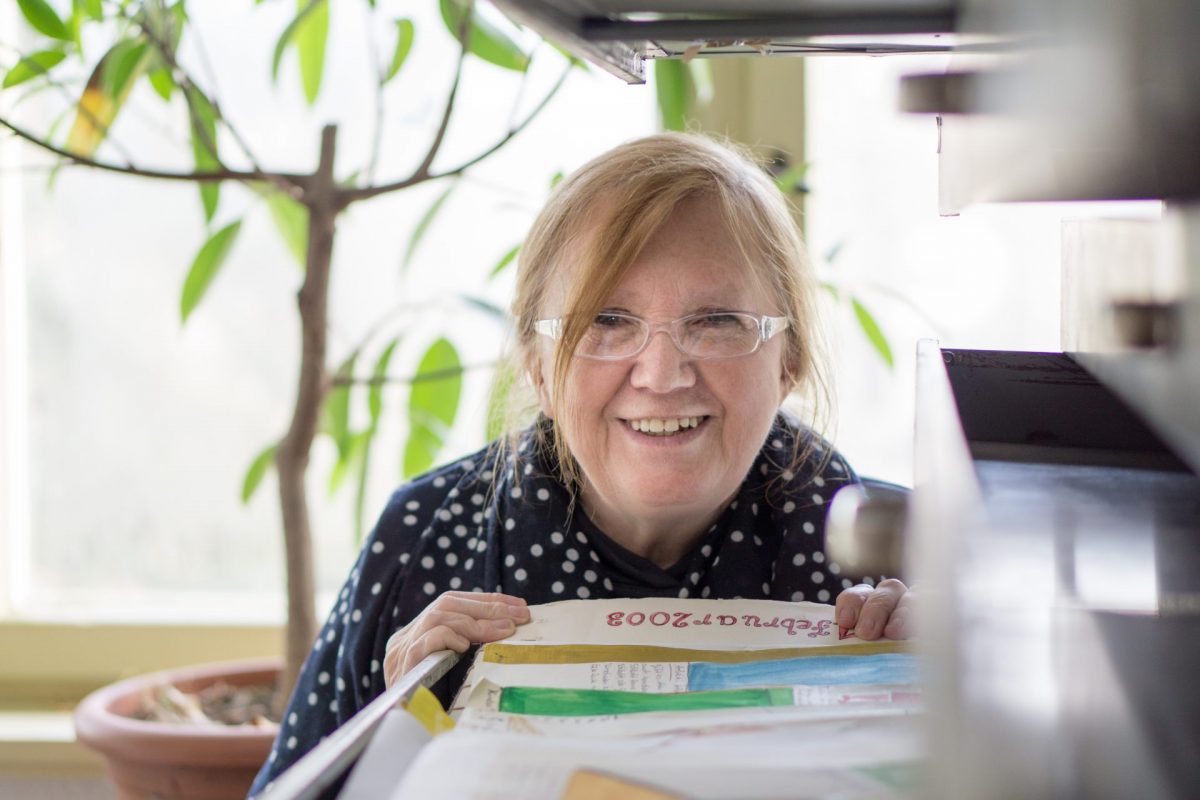 "I feel most comfortable among crazy people." Rosi Haase, artist
Her grandparents starved to death in the Second World War, her mother was shot at, and she prefers to surround herself with people suffering from mental illness. The life of the 66-year-old artist is extraordinary from start to finish.
"I read that you were married to a pilot. That's why I thought we could meet in the restaurant "Pilot" as that would be easy for you to remember!" Her greeting as we sit down communicates so much about what Rosi Haase is like: direct, practical, witty.
Sitting opposite me in the Leipzig restaurant "Pilot," she seems more fragile than she appears in photographs or how I imagined her. Well-known around Leipzig, the artist clearly has a strong personality, but the impression she makes with her outward appearance is petite and delicate.
"No one is freer than people who are considered crazy."
It was sheer coincidence that, having trained in graphic design, she ended up in psychiatrics. It started with someone asking if she could fill in for a colleague at the District Psychiatric Hospital in Leipzig. "Oh no, I don't want to work with crazy people," came her brief reply.

But lacking any alternative, they begged her, and she agreed to try it out for three months. That was in 1984. From these reluctant beginnings, a heartfelt passion emerged. It has led Rosi Haase into emergency rooms, community psychiatric services, homes, and residential groups. "I didn't stick around in psychiatry because I wanted to help poor, sick people, but because I think these people are great. And because I can't accept them simply being drugged up to the eyeballs, instead of receiving human care and attention."
"How do you know it won't be you next?"
Her decades of work on behalf of those suffering mental ill health have earned Rosi Haase the Order of Merit of the Federal Republic of Germany and the Leipzig Badge of Honor in 2016. The 66-year-old East German – who points out she has "no personal experience of psychiatry!" – offers her help "because it can happen to anyone. Then you're glad for people who stick by you. And because I'm fascinated by mysterious behavior, and many of the writings and pictures the patients create are simply beautiful."
Says a woman who grew up surrounded by ruin. The devastations of war have been part of her life since birth. She was raised in the town of Forst (Lausitz), close to the Polish border – a child of the post-war years in what she herself describes as a petty bourgeois family of the GDR. A child of hope. And a child of a young socialist state.
"When I was reading, in my head I'd be daydreaming about the great wide world."
She learned to read early; books were her key to intellectual freedom: "When I was reading, I was utterly enthralled. It's still like that today. Other people were infatuated with their sweethearts; I only ever wanted my books. I was totally addicted. For me, reading opened up a window to the world."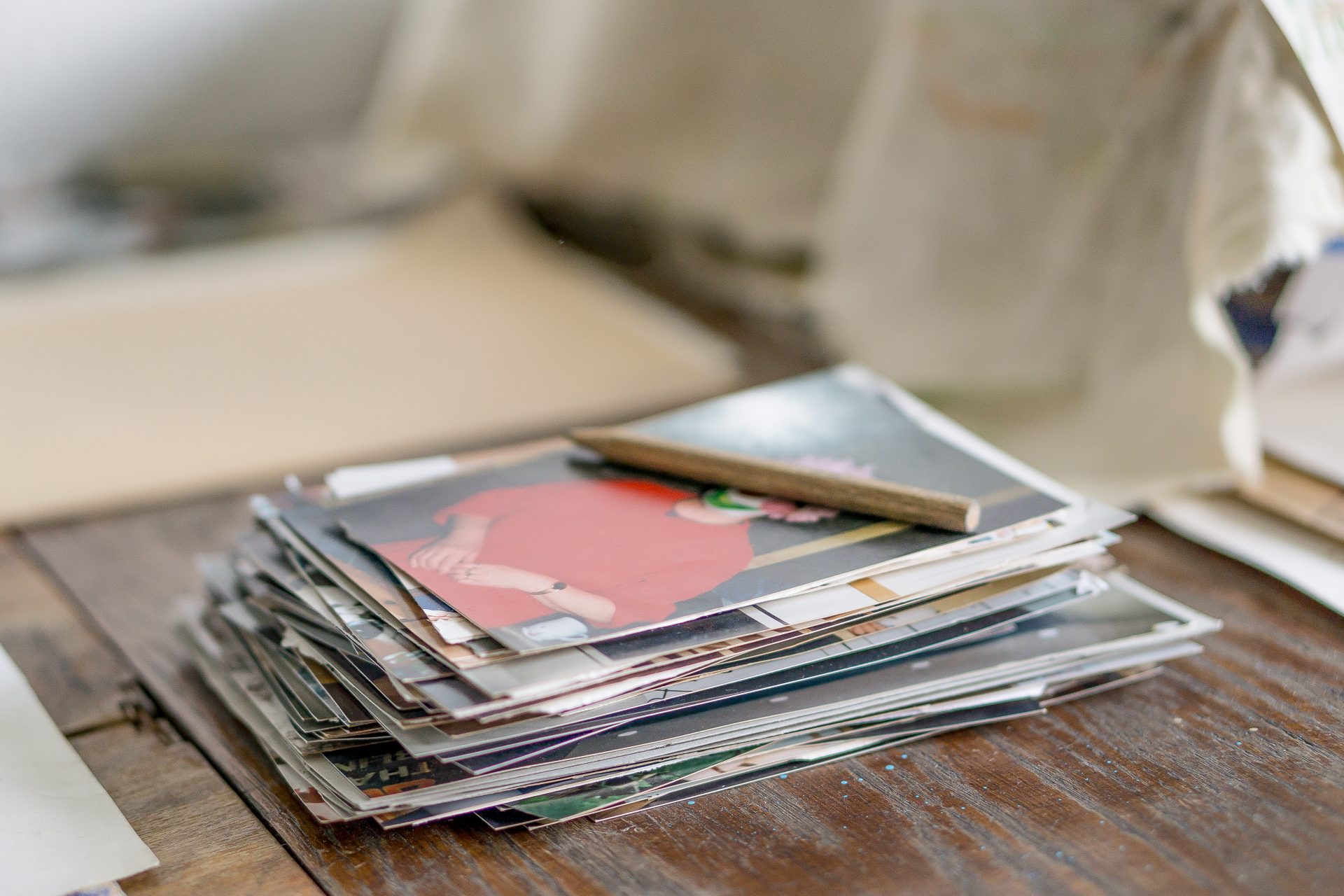 While she was dreaming up a bright future with her reading, her parents were busy processing their past: "Towards the end of the Second World War, when my father was being held as a prisoner of war in Belgium, my mother fled from the Russians with my sister, who was two years old at the time. While on the run down a country road, she came under fire from low-flying Allied aircraft, British or American. My mother managed to take cover with her child in the ditch at the side of the road. Yet they still shot at her. They were so close, she could see the pilot's face. My parents talked a lot about their experiences during the war. Even so, I had a cheerful nature. As a post-war child, it was my job to be full of joy for my parents."
You can imagine that with this attitude she was taking on a task that must have been rather heavy for her slim shoulders to bear.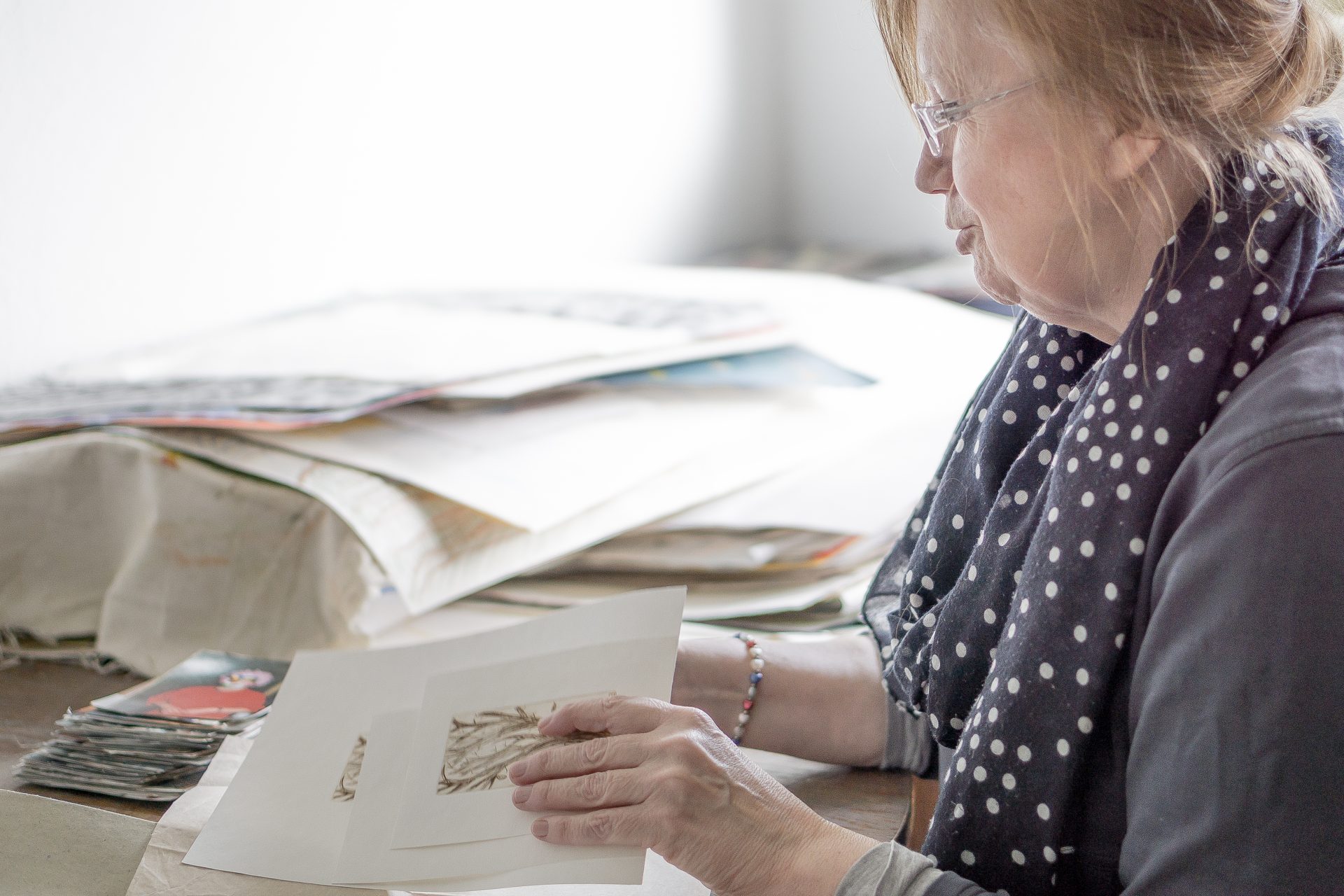 When Rosi Haase speaks, she is blunt, at times you might even say she is somewhat emotionless, but she speaks with humor in an almost sing-song voice and a broad East German accent. Light and nimble, yet laden with details and stories that are hard to digest. "Sometimes the hospital staff would criticize me: 'You only love the artists, we have to love all the patients!' In reality, they didn't love the patients at all. They treated the inmates who were grateful and well-behaved with a patronizing benevolence, and the rebellious ones with threats, drugs, and restraints. If that didn't help, they were sent off to Waldheim, the most notorious psychiatric unit in those days."
"When I'm faced with injustice, I won't let go."
The brutality that was inflicted there behind locked iron bars is revealed through a visit to the Saxon Museum of Psychiatry in Leipzig. Here, there are straitjackets on display, alongside psychiatric intensive care beds (a sleeping berth with a net to which uncontrollable patients were tied), and electric shock devices.
In addition, there is extensive documentation, detailing, for example, Paul Nitsche's program of execution. As the medical director of what is known as Action T4, he was one of those who bore primary responsibility for the "euthanasia" killings of 70,000 sick and disabled people between 1940 and 1945. After the war, he was sentenced to death and executed.
The museum is located in a renovated Bauhaus villa in the district of Zentrum-West to the west of Leipzig's city center. The building is also home to an association that Rosi Haase co-founded in 1990, called "Durchblick" (German for "perspective"). At "Durchblick," people who have undergone psychiatric treatment can seek advice, share experiences, paint, or simply spend time with each other. Without being labeled "mentally disturbed," a meeting place for everyone: "I've always stood up for people who get thrown out of everywhere." And for people who need some downtime, the association offers temporary accommodation.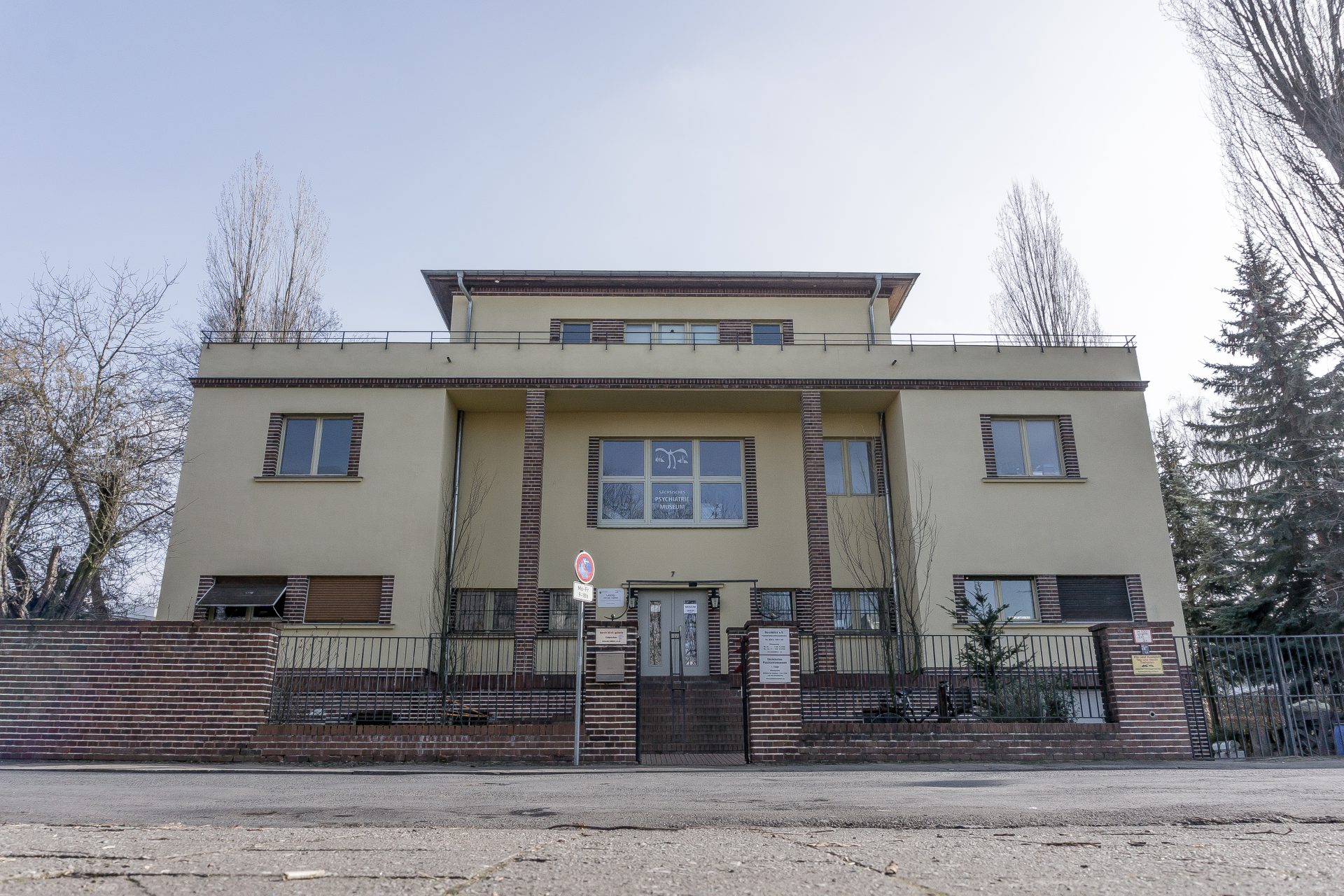 "I like silly people. We're all much too conventional."
Today, the artist who never wanted to work in a psychiatric clinic even lives with two former patients in a shared apartment, "because it's so much simpler sharing your day-to-day life with other people. I've never felt so relaxed as I do in this apartment. And no, I'm not a therapist for my roommates, good Lord, no."
Neither of her roommates is her long-term partner, whom she has been with for 11 years – though he, too, is one of her former clients. "Hmm. Perhaps I would become too subordinate. Women are good at that. I did it too in my marriage. My husband comes first and then me."


It is astonishing to hear how traditional Rosi Haase says she was in her marriage, which was to a fellow artist, the Hungarian-born Akos Novaky, a famous painter and graphic artist in Leipzig. Both are graduates of Leipzig's renowned Academy of Fine Arts, also known as HGB Leipzig – among art critics, the HGB is ranked among the most distinguished colleges of art in Germany. The world-famous artist Neo Rauch, for example, also studied at the school.
"In the GDR everyone had children, it was part of the culture."
It's not what you'd expect of her – the campaigner, the pioneer. And as she continues, it becomes clear that what she says about having been a subordinate wife doesn't quite reflect the situation. By the standards of the time (and to be honest, by today's as well), the way the relationship worked was very modern: "I went out to work and he stayed at home and painted. Maybe that was unusual in West Germany. In the GDR it wasn't. A lot of the couples we knew did the same thing."
I ask why the marriage work didn't work. She responds with an astonished look: "But it did work." This is Rosi Haase – unconventional. She will not be put in a box and immediately throws off any attempt to do so.
"It's crazy the constraints we put on ourselves."
She comes across as fearless and brave. The 66-year-old needs both qualities in her life-long struggle against the stigmatization and exclusion from society of those who experience mental health problems. "The greatest misunderstanding is that people affected by mental ill health are different from everyone else. That you should keep away from them."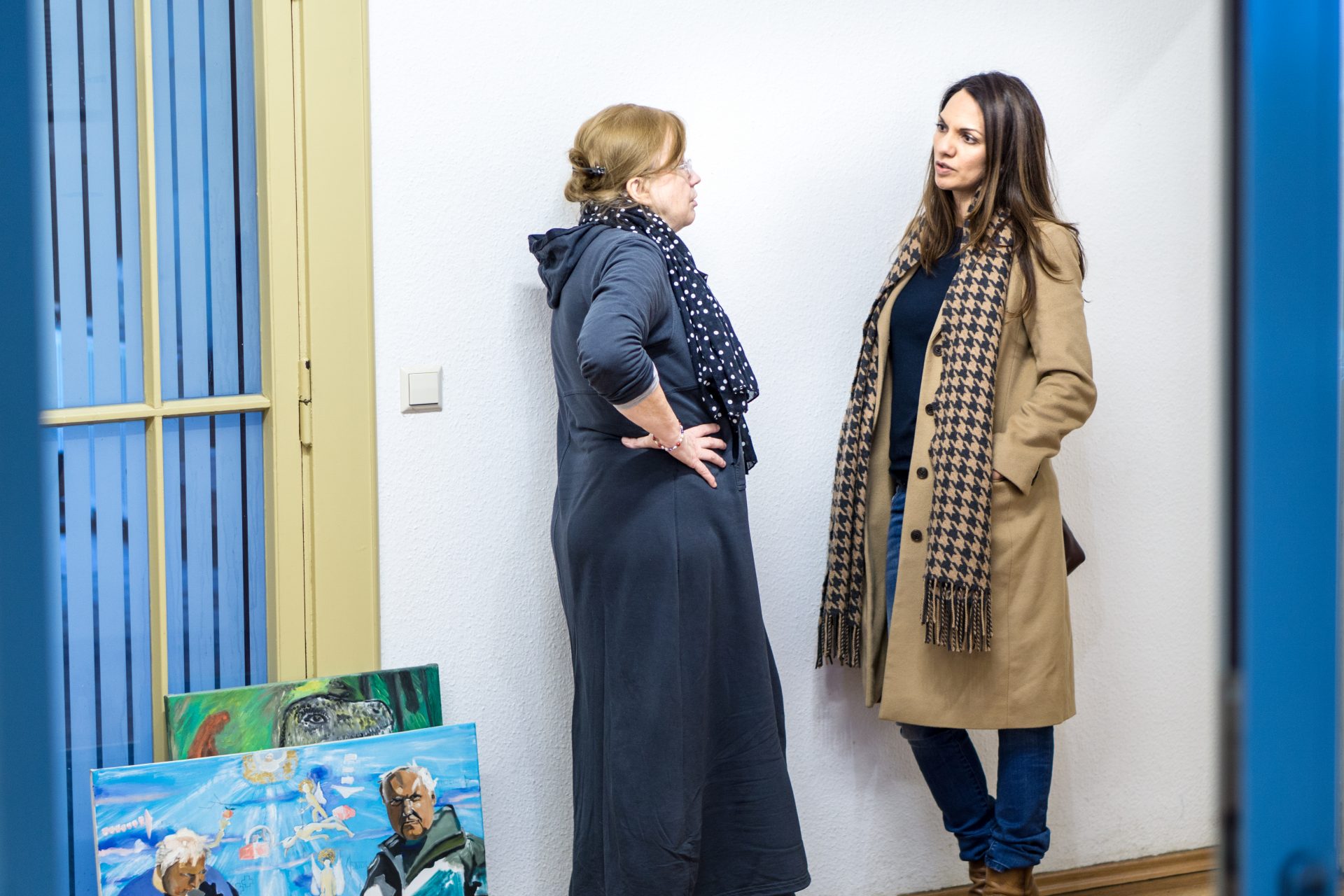 The artist is quite sure that if people had more love for one another in society, the psychiatric clinics would be less full. She is aware that her wish for more universal love for our neighbors is an idealistic one, but it's her opinion and this is something she makes known. Whether people want to hear it or find it uncomfortable doesn't interest her very much.
However, anyone who thinks she opens her heart to all sufferers of mental ill health is mistaken: "Now and then I reach my limits with depressive or compulsive people. And personally, I struggle with anorexics. That must be because my grandparents starved to death in the war."
"I'm someone who loves community, but from now on, it's just me."
Rosi Haase currently finds herself in a period of upheaval. She would like to retire from her voluntary work with the association. It's obvious that this is a strain on her, being available 24 hours a day for around 90 members.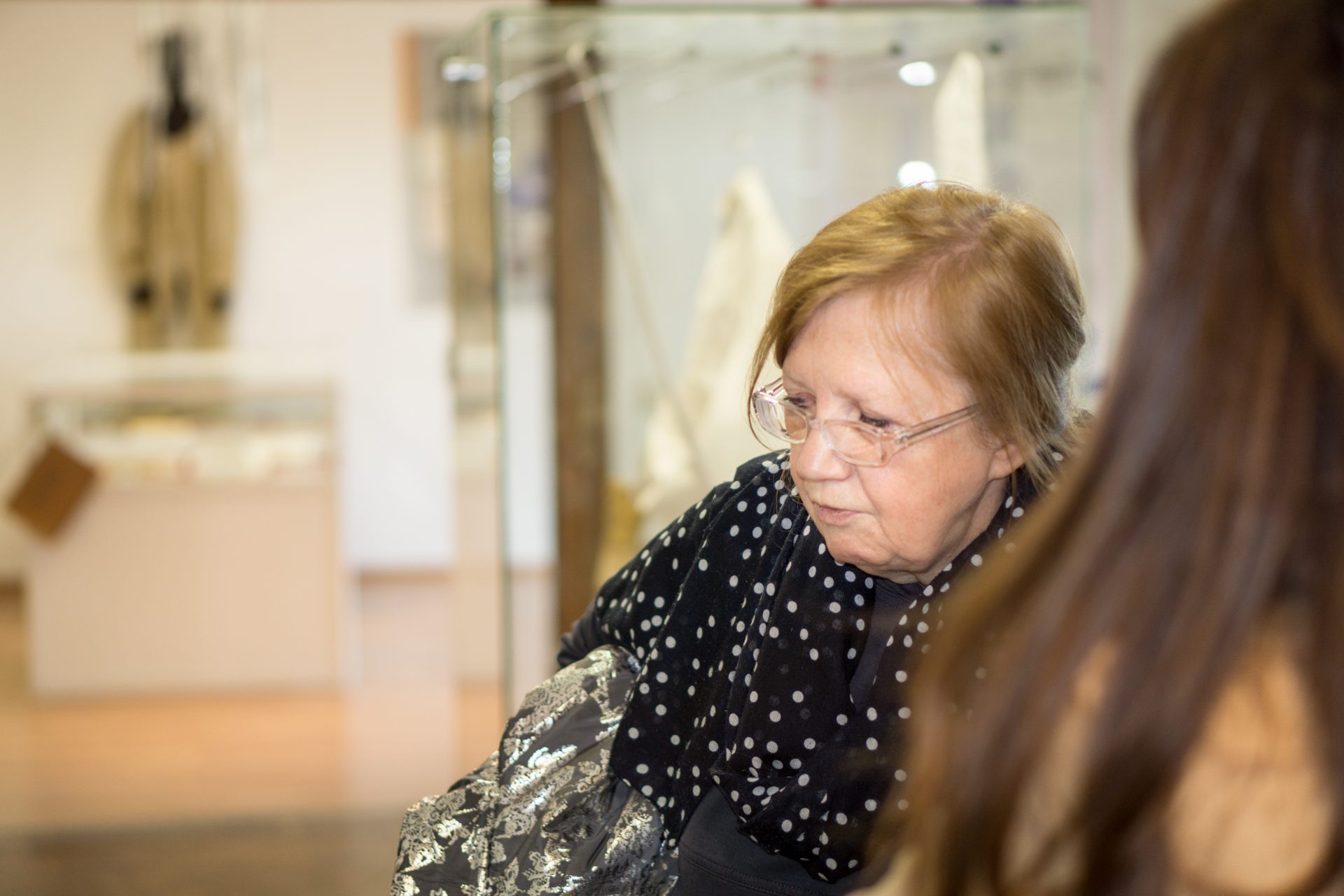 Since she knows so much about psychological disorders and must surely be an expert in setting boundaries, why has she herself never seen a therapist to share the load? "I never had the urge to and never had the feeling I needed it."
"Every day I like to decide afresh how I want to live."
I hope she doesn't find it too bold as I ask her my final question, whether she feels more "normal" when she surrounds herself with people who are grappling with their own minds. "But I'm not normal. I'd rather people described me as crazy."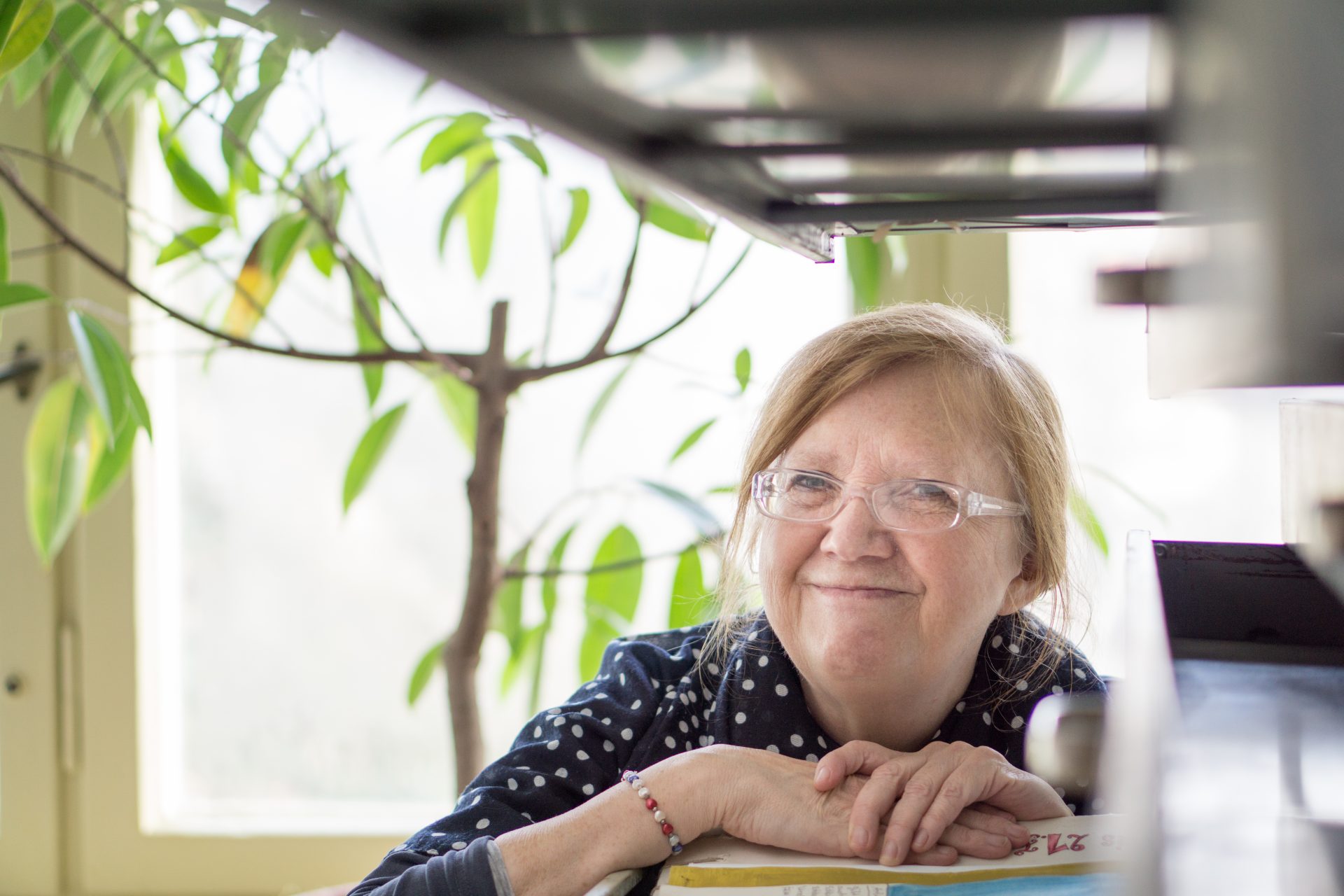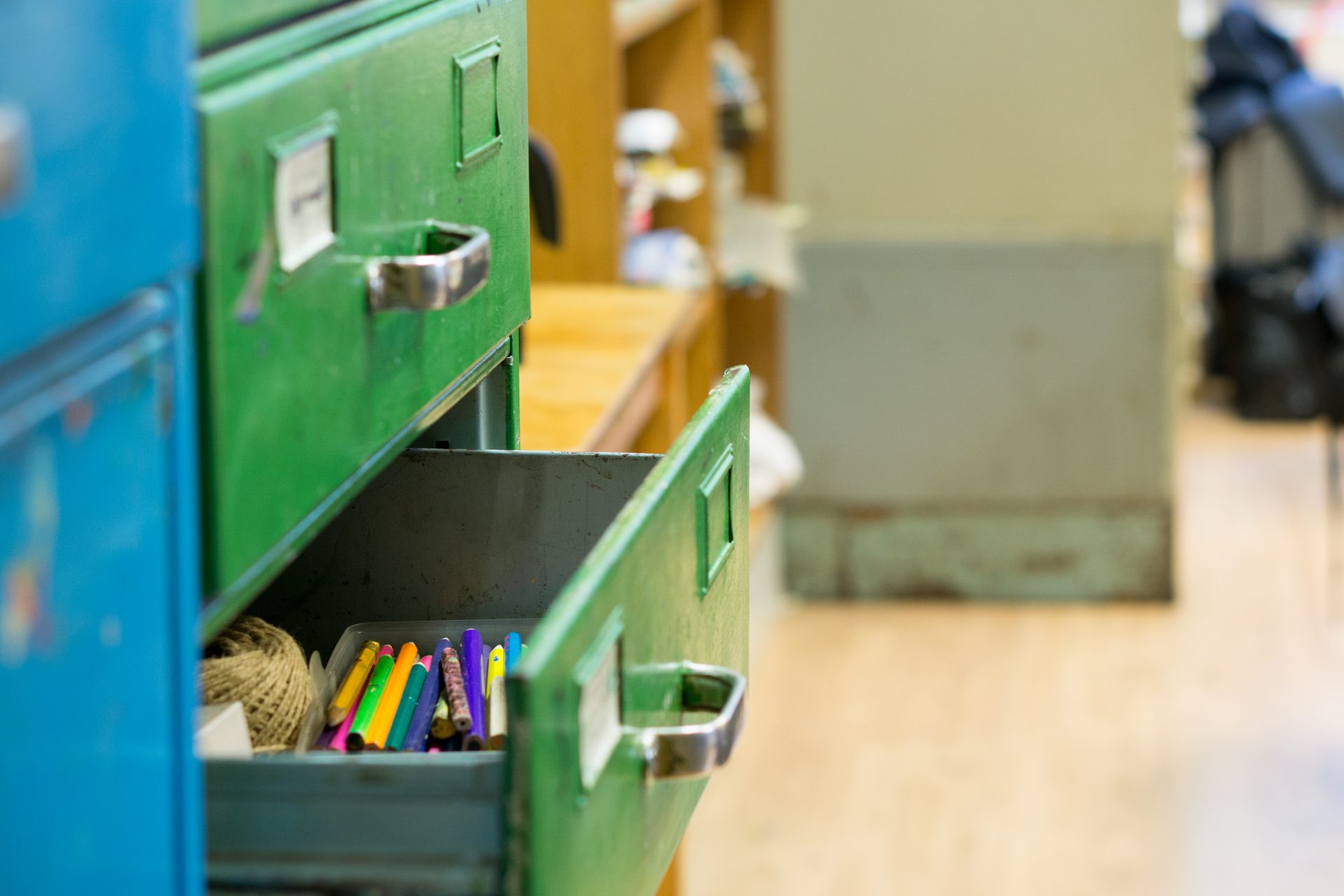 Listening to Rosi Haase, you are plunged into a life characterized by ruptures. You feel her social commitment, and sense the tremendous energy inside her that allows her to keep on tackling new challenges. You might think that this way of life would eventually wear her out, that at the age of 66 she might long for things to calm down a little. You'd be wrong: "I'm a fighter. I can take an idea that might seem impossible and I won't let go until I've made it a reality."
She would like to set up an artists' residence to house all the pieces that are stacked here in the basement at "Durchblick" or lying in the attic, waiting to be seen. And she wants to create an alternative to psychiatry. A place where everything is possible. A place of freedom.
Newsletter
Subscribe to our newsletter and you'll get notified every time a new article is online.